This year, we decided to keep our annual holiday bundle simple.
One choice with three massively popular books included. Extra goodies you can't get anywhere else. Gigantic 40% off savings.
Each book in the bundle can be finished in 2 hours or less, perfect for the busiest and most distracted among us.
And all three of the included books are intensely practical, written with doers and makers like you in mind!
🧱 To help you learn what to to make, we've teamed up with Rob Fitzpatrick to include his book "The Mom Test", widely acclaimed as one of the cornerstone reads on talking to prospects and customers about what they want and need.
🧱 To help you finish and ship, you'll get Amy Hoy's "Just F*&king Ship", which thousands of perpetual procrastinators have used to get off their butts and finally launch their idea to the public.
🧱 To help you make decisions & think like a seasoned entrepreneur, you'll get Alex Hillman's "The Tiny MBA", a deceptively tiny thinking tool you can use to navigate business in ways that most people only learn the hard way.
You can grab this all-digital bundle for yourself, or buy it as a gift for the creators & aspiring entrepreneurs in your life. Or both!
Love from our readers
The Mom Test
by Rob Fitzpatrick
Widely considered the #1 "must read" book on getting useful customer feedback on your ideas.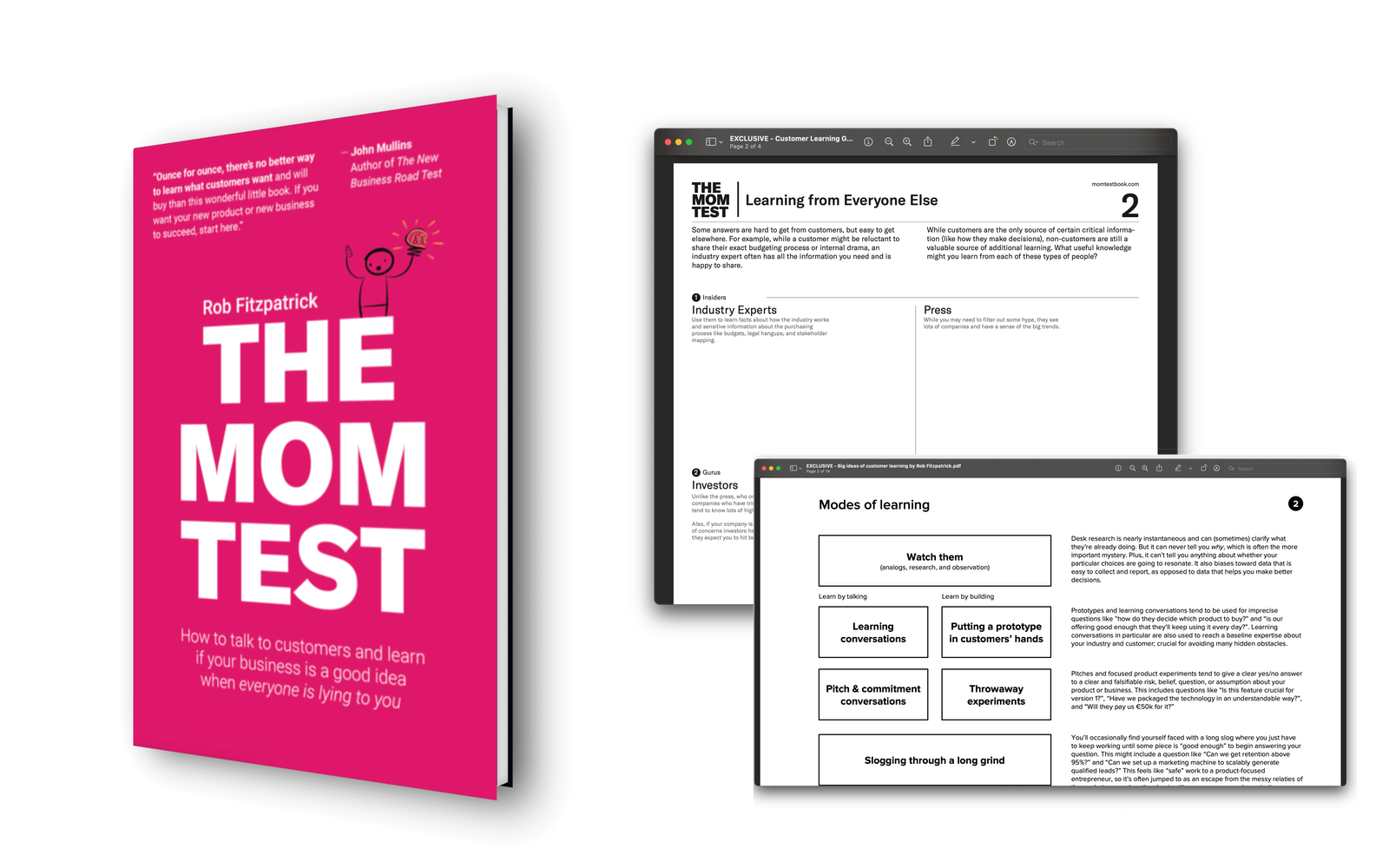 Stop wasting your time making things nobody wants
"The world doesn't need another framework or theory. The Mom Test skips all that and gets to the hands-on challenges. How to avoid biased feedback? How to write an email that makes people want to talk to you? How to figure out whether someone is really going to buy? It's all in here."
Entrepreneurs are universally busy, yet odds are high that you're wasting huge amounts of time sitting in pointless meetings and building unnecessary features. Talking to customers takes time, so it's worth doing right.
Take two hours to read this book and you'll see it repaid tenfold.
EXCLUSIVE BONUSES:
"The Big Ideas of Customer Learning" is a 14 page quick-reference you can use while putting the lessons from The Mom Test into practice.
"Customer Learning Goals Worksheet" is a printable, interactive worksheet you can use before, during, and after every customer interview.
The Mom Test Value with Bonuses: $19.00
Note: Ebook & Audiobook ONLY included in this bundle. Paperback sold separately.
Just F*&king Ship
by Amy Hoy
Improve your approach to starting projects of all sizes, and start finishing them stress-free.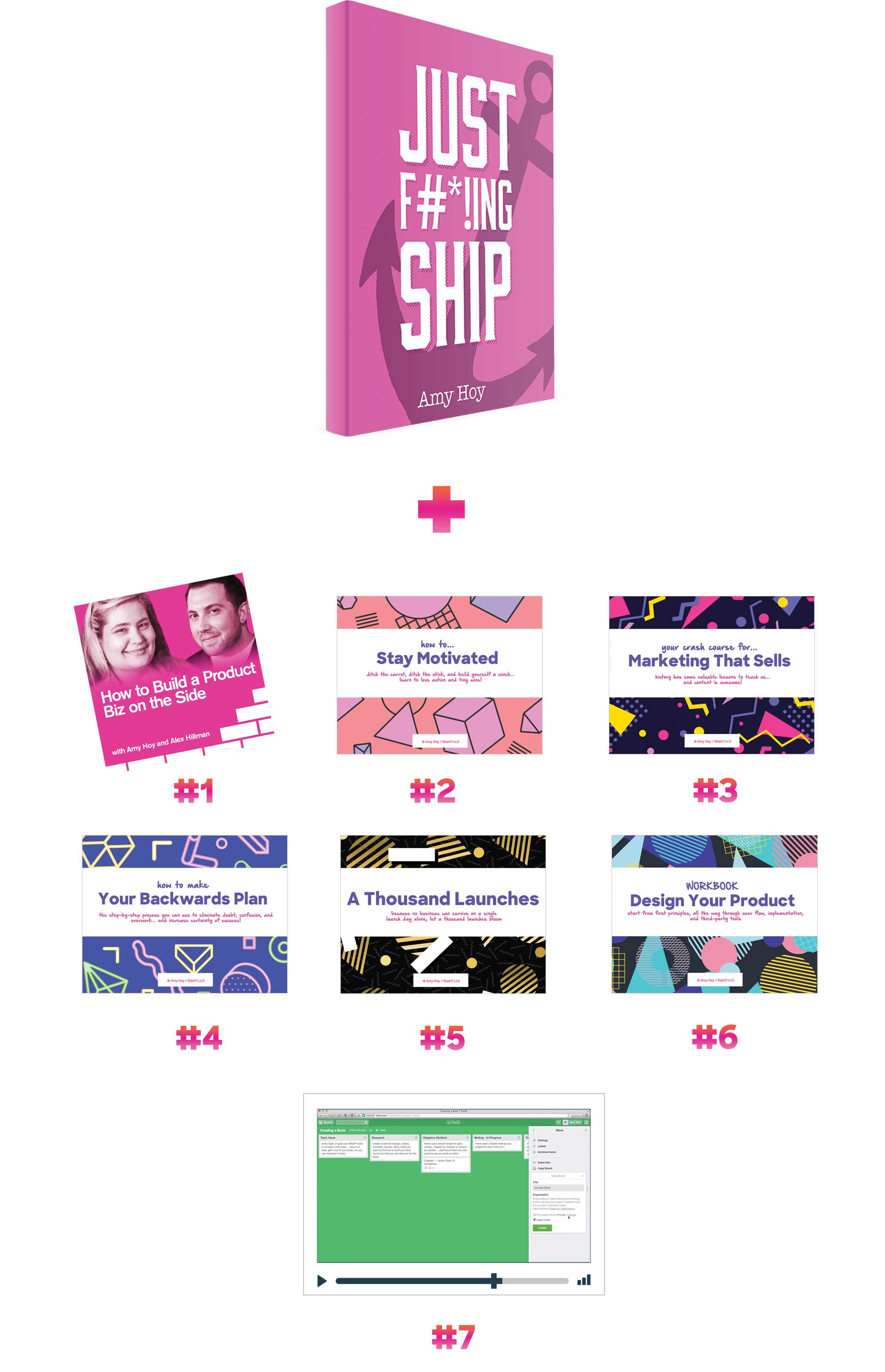 Beat your worst procrastination, from start to finish
"JFS was the starting point of everything for me, it helped me go from wanting to sell something to actually making money from strangers in the internet. Can't recommend enough."
- Jorge Vergara
This short, sweet, action-packed book will teach you the 21 principles you need to design, break down, and execute on any project, from excuses to success, from idea to launch. Use the principles start AND finish your next project.
EXCLUSIVE BONUSES:
"How to Build a Product Biz on the Side" (Audio) - A motivational kick-in-the-pants recording of me and Alex, with all the gritty details and personal stories.
"Motivation Crash Course" (PDF) - Learn the winch method of motivation, and learn to love action: Ditch the carrot, ditch the punitive stick, and overcome procrastination to find motivation that lasts.
"Marketing Crash Course" (PDF) - Learn to create and implement the world's most effective (and cheapest) marketing strategy… ebombs! Hit the ground running by learning to mine your audience & your potential competitors for ideas and insights.
"Backwards Planning Crash Course" (PDF) - Overcome overwhelm, indecisiveness, and banish the question "what do I do next?" forever… plan for clarity, plan to ship, and plan to win!
"Product Launch Crash Course" (PDF) - Learn to design and execute a simple (but really persuasive) launch… complete with real student examples, with schedules and content suggestions for a 5- and 7-day launch sequence!
"Product Design Workbook" (PDF - Spec out your product with actionable, achievable detail using our assumption-busting 12-step product design workbook, more detailed than you'll find anywhere else.
"JFS Trello Templates" - Use our custom-designed Kanban/Trello templates for creating a book, podcast or interview series, scoping & launching projects, ranking feature importance, and more.
Just F*&ing Ship Value with Bonuses: $39.00
The Tiny MBA
by Alex Hillman
There is no single right way to do things in business, but there are plenty of avoidable mistakes along the way.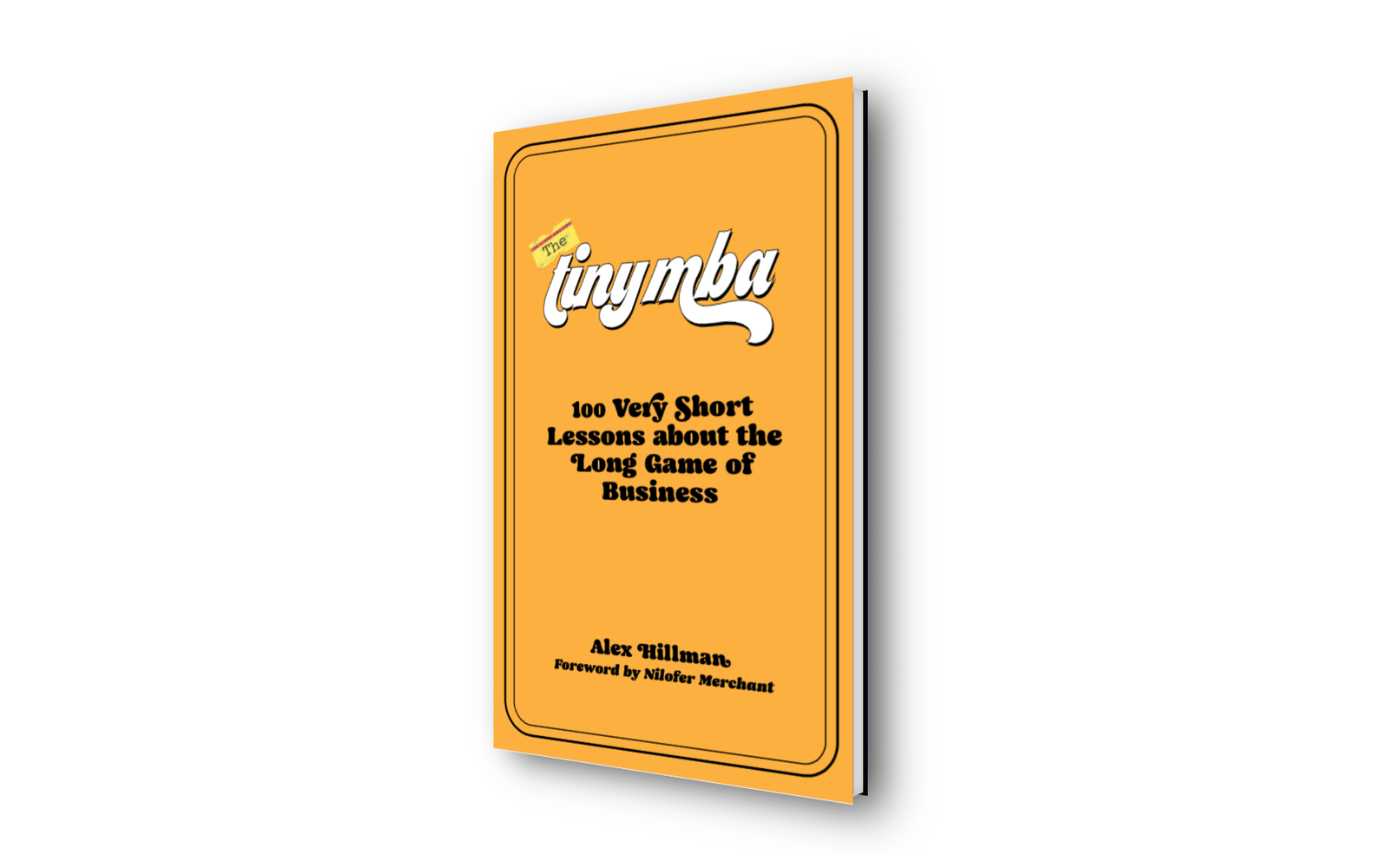 Get your head screwed on straight
"...important, thought-provoking ideas about entrepreneurship & business practice. The pages on creating & maintaining partnerships alone are worth the read."
- Josh Kaufman, author of The Personal MBA
Don't let it's size fool you, The Tiny MBA offers 100 pointed and impactful pieces of guidance that will help you begin to think like someone who has started and run their own business for 15 years and intends to keep doing it for a long time.
Each page of the book offers ideas and prompts and clues and suggestions and reflections to help you navigate business in ways that most people only learn the hard way. Dip into this book once every few months (pretty easy since it's just 30 minutes to read), or even once a year, you're guaranteed to find something new to chew on every single time.
Note: Ebook ONLY included in this bundle. Paperback sold separately.
EXCLUSIVE BONUSES:
Tiny MBA Artwork for your Phone & Desktop Computer Lockscreens - Keep lessons from The Tiny MBA front and center with three elegant backgrounds for your favorite devices.
The Tiny MBA Value with Bonuses: $9.99
Sorry, this bundle deal is gone!Check out the rest of our digital store until next year's sale.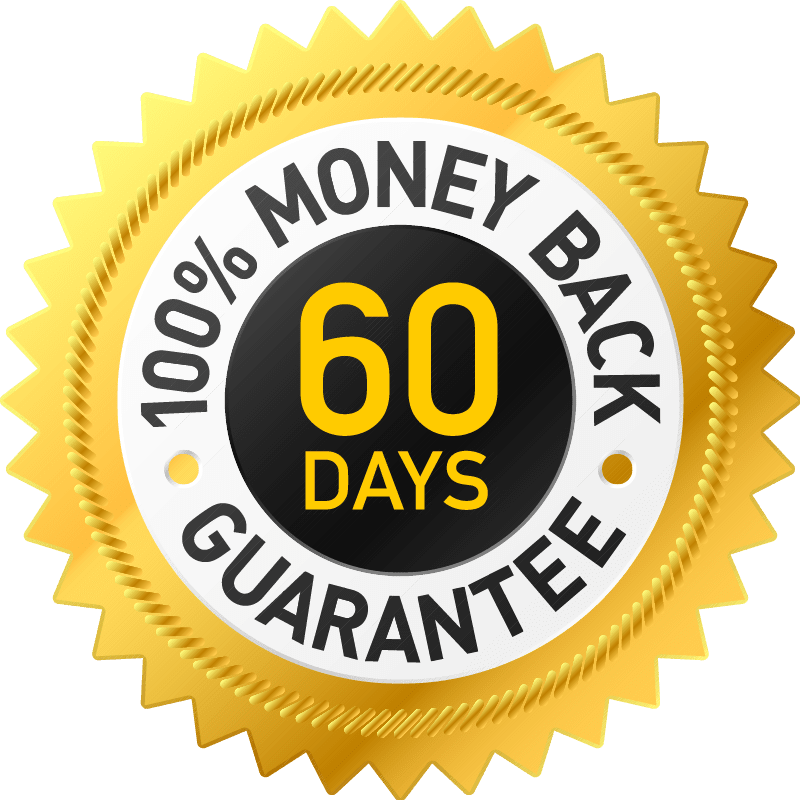 Questions & Answers
Got a question? Drop us a line at [email protected] and we'll be happy to help!
How will it be delivered?
This all-digital bundle will be instantly accessible after purchase by logging into the Stacking the Bricks Product Portal. Login information will be provided via email.
Books: All books, guides, and crash courses are in PDF format, ideal for iPad reading, highlighting, note taking, or even (gasp!) printing. .mobi and .epub available ONLY for The Tiny MBA.
Audio & Video: You'll be able to download the audio and video files for interviews and audiobooks.
Trello boards: You'll receive a link you can use to copy my Trello boards.
How can I give this bundle as a gift?
We will instantly deliver the bundle to your recipient if you use their email address when buying the product, instead of your own.
If you would like to wait to "deliver" the product to them in the future, or include a custom message to them along with the gift, we recommend using your own email address to purchase the bundle, follow the steps to create a password, and then give your gift recipient the login/password to access the bundle.
In a pinch, you can forward your order confirmation email to [email protected] along with both your and your recipient's email addresses, and we can transfer the bundle from your account to theirs. Please note that these transfers might take a few days for us to complete.