In a recent email to our newsletter, we promised ~*changes*~ were coming to our flagship business course, 30x500 Academy.
And it's true! Over the last few years we've quietly added new lessons, resources and improvements to the 30x500 course and curriculum.
Most recently, Amy designed a brand new planner to help you squeeze every drop of value from the coursework while also helping you map out how you will invest your time.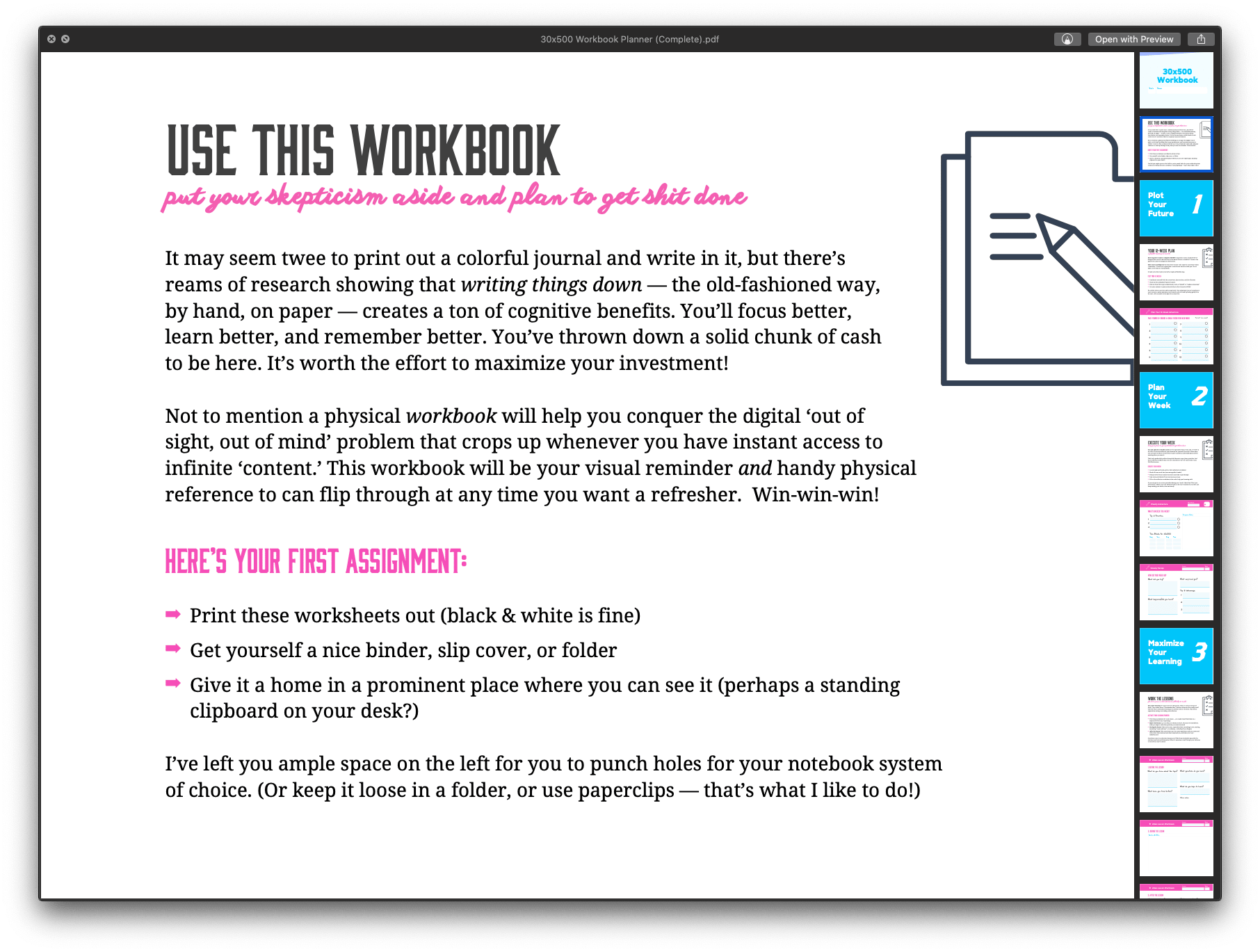 These changes are for you, if you sign up for 30x500. They're great.
But the BIG changes we've made are more systemic to how we offer 30x500, and the foundation of our business helping creative folks like you start businesses of your own.
These systemic changes expand on two specific efforts we've been working on behind the scenes:
Designing the 30x500 business model to have an ongoing positive impact on people who are most impacted by systemic racism, inequity, and inequality.

Making 30x500 financially accessible to more aspiring entrepreneurs.
It's worth noting that these changes do not take anything away from 30x500, especially for our existing students. The good stuff stays good.
Now lets talk about how what we're doing better!
1 - Expanding our Commitment to Charity
Charitable giving has long been a part of our work, most often through DonorsChoose.org where we help teachers buy supplies and resources for their classrooms.
We LOVE finding and closing out projects so teachers wake up to their classroom needs being fully funded.
That won't change.
What's new to our charitable giving was first outlined in this post about our plans to use our platform to fight systemic racism, inequity, and inequalty and support those who are most harmed by it.
…we will re-design the financial side of our business around generous and ongoing donations to programs with a proven track record of empowering Black creatives and entrepreneurs.
Retroactivly to June of 2020 and for the forseeable future, we've decided to donate 5% of all 30x500 sales to this cause.
I did the math, and that means we have $3,974.67 already allocated to our donation pool.
This is an uncapped percentage based donation, which means that as our business grows and succeeds, we have more resources to contribute to these causes.
We don't have to decide "how much do we want to donate?" at the end of the year. More people in 30x500 = more money to charity.
The current numbers puts us on track for to donate tens of thousands of dollars over the next 12 months. This is an ongoing effort that we will continue under this model until or unless we replace it with something even more impactful.
And all you need to do to make it happen is sign up for 30x500 and learn how to launch your own products that sell!
We are currently vetting a few choices for the best options for our charitable giving, but our priorities are charities with honest leadership, proven track records of empowering Black entreprenuers, and transparent reporting of their impact in the communities they serve.
As soon as we've made our first donation, we'll report back to tell you more all about the organizations that YOU helped support!
2 - Improving Financial Access
We're confident that, if anything, 30x500 is underpriced given how consistently people who follow the steps and apply the lessons are able to earn back multiples of the price of admission.
Remember, it only takes 127 sales of a $79 product to generate $10k (which is 5x ROI on 30x500). On the whole internet!
But that doesn't change the fact that investing a couple thousand dollars is out of reach for many people, often the very people who are systematically excluded from business and entreprenuership.
We first introduced a payment plan option a few years back, which immediately made 30x500 more accessible to many more people.
Next week, we're introducing two additional efforts to get more people enrolled in 30x500:
💰 BIPOC Financial Assistance and 💰 Parity Purchasing Power.
Over the last 3 months we've been experimenting with both of these "tools", and the response has been extremely positive!
Here's how each one works.
💰 BIPOC FINANCIAL ASSISTANCE
First, we're committed to growing the percentage of our students who come from backgrounds facing structural disadvantages due to systemic discrimination.
Predominantly this means Black, Indigenous, and People of Color (PoC). These challenges are especially prevalent in America where we live, but they occur everywhere around the world.
There's no sense sugar coating it: our population of student entrepreneurs is woefully white, historically speaking. Bias and white supremacy in the tech and business world are only amplified in entrepreneurship.
We have more we can do, but one of the most obvious opportunities is to lower financial barriers where they exist because of these very systems of inequality.
We're still figuring out all of the details for how we provide this resource, but for now, we're keeping it simple and offering BIPOC students a way to enroll in 30x500 at a significantly reduced out-of-pocket price.
When we offered this financial assistance in back in July, enrollment shifted dramatically. Previously a low single digit percentage, our latest cohort of 30x500 students included nearly 20% Black and brown creatives!
We still have a long way to go, but we're chuffed by the response so far, hearing things like this:
"Thanks for setting this up, it's a dream come true to finally be a part of the 30x500 course, I've been following it up for up to three years now."
"I really appreciate the fact that you are so committed to making this work."
"Thank you for helping to mold Black entrepreneurs who don't need to be beholden to institutional capital."
So during our next 30x500 enrollment, we are making 30 additional spots available at this reduced price for BIPOC students.
If you are BIPOC and interested in claiming one of these spots in our next enrollment, especially if the price was the #1 barrier for you joining 30x500, please email [email protected] and we will share enrollment details with you directly.
If this continues to go well, we will work to expand this program even for even further impact!
💰 PARITY PURCHASING POWER
Another challenge we've heard over the years is from students who live in parts of the world where – usually due to exchange rates and local economics – joining 30x500 would mean spending one or more months of their entire income.
Since the mission of our work is to help people create economic power for themselves, that ability should also be accessible anywhere you have an internet connection.
"Parity Purchasing Power" is an equation that helps us calculate an appropriate discount to offer people in countries where average income levels create systemic disadvantages in global commerce.
Effective immediately 30x500 enrollment, we are offering Parity Purchasing Power discounts to a long list of countries around the world!
For now, these discounts are by request (we don't have a way to automate this with our current courseware just yet) but we're happy to do the extra work if it means more people can learn how to build businesses in more parts of the world.
You can check this page to see if your country is included, and email [email protected] to learn how to apply the appropriate discount for your country if you need it.
This work will continue
These efforts are first, in part, because they are foundational.
We're still learning. We're still listening. And we're still committed to the core goal of enabling more entrepreneurs to own their time, energy, resources, and successes around the world.
If you have ideas for ways we can help, we're happy to hear them. Drop us an email.
And if you're inspired by any of these efforts to make similar changes in your business – or have questions about how to pull it off – we'd love to hear about that too!