It's that time again! No, not turkey-stuffing-cranberry-yam-and-marshmallow sandwich time. No, not pepper-spray-your-fellow-Black-Friday-shoppers time. No, silly… it's Biz Book Friday! Today, a little change of pace: Peter Drucker. And puppies.
Who wants to start a business? You do!
Who wants to pet a puppy? You do!
So… which puppy do you pet?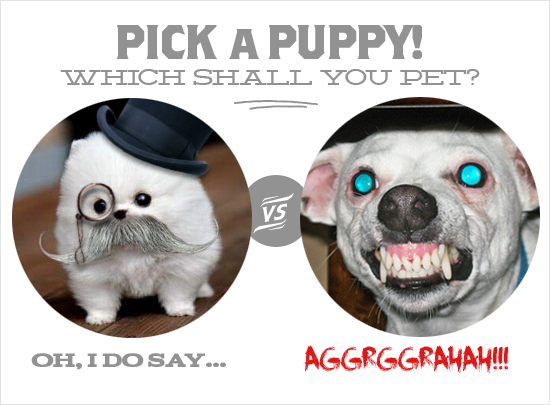 Well, that depends, I suppose. Exactly how attached are you to that hand?
Towards a Philosophy of Puppy Stroking
Say you are an indiscriminate puppy pat-er. You see four legs and a tail and you just can't keep your hands to yourself.
So you walk by the junkyard one day and LOOK! A PUPPY! Your tic kicks in. You slip your fingers through the chain link fence so that you can get your puppy fix. From the 150-pound, slavering, red-eyed menace. Here, boy!
One day, I expect, you will find yourself to be a very excellent one-handed typist.
But what if you practice safe pets?
What if you limit your doggy-stroking adventures to the fluffy pom used for animal therapy visits at the local preschool?
The chances are extremely good that you will die of old age and be buried with a full complement of 10 wiggly little digits.
Puppies are Serious Business™…and risk is a lie
We're talking about puppies, but we're really talking about your business. Get it? Whether you call it a "startup" or "small business," a "lifestyle business" or a "baconbiz" or "my little side gig," the facts are the facts:
Risk is not risk.
We talk about it like it's a real, concrete, immutable thing.
But risk is like puppy-petting: it involves choices. You can choose to be smart, and snuggly, or dumb, and finger-less.
I'm not saying that there's anything wrong with a high-risk venture. But it's far from the only choice… and what's more, even things you'd assume are high-risk don't have to be.
Risk is not absolute. It depends on your choices. Yes, that's right: you get to choose how much risk to expose yourself to. Amazing!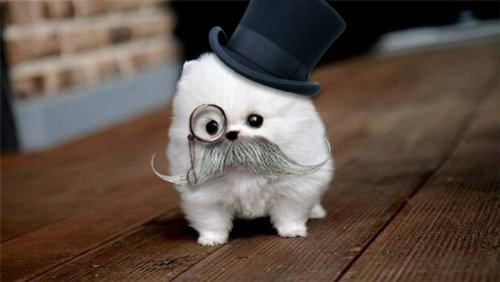 Old school biz peeps know this — startups don't
Entrepreneurship is "risky" mainly because so few of the so-called entrepreneurs know what they are doing. They lack the methodology. They violate elementary and well-known rules. This is particularly true of high-tech entrepreneurs.
Ahhh, the bitchslap of reality. From the past.
That passage hails from Peter Drucker's Innovation and Entrepreneurship, published in 1985. Yes, over 26 years ago.
Still true. True-r, even.
Peter Drucker's got a drum – a true-r drum – and he's gonna beat it, giving us all a good what-for:
Those entrepreneurs who start out with the idea that they'll make it big—and in a hurry—can be guaranteed failure. They are almost bound to do the wrong things.
Oh, really, Peter Drucker? Tell us more!
The entrepreneur is therefore well advised to forgo innovations based on bright ideas, however enticing the success stories. After all, somebody wins a jackpot on the Las Vegas slot machines every week, yet the best any one slot-machine player can do is try not lose more than he or she can afford.
We need to systematize, he tells us. (Sound familiar?) We need to base our entrepreneurship off research and analysis and understanding, rather than woo-woo hand-waving and hagiography and awed, prideful worship of the "bright idea."
And, he says, people get really confused about what high-tech entrepreneurship looks like.
Junkyard Dog Alert: trying to be Fustest with the Mostest?
Drucker describes 4 basic entrepreneurial strategies. One of them is "Fustest with the Mostest," a humorous dialect misquotation of Confederate Lieutenant General Nathan Bedford Forrest's strategy of arriving first to battle with the most men and firepower:
In this strategy the entrepreneur aims at leadership, if not dominance of a new market or a new industry…
That does sound awfully familiar, doesn't it? It sounds like what everybody and their finger-crunching dog say about how to do a startup:
Shoot for the moon
Get there first
Dominate
Grow big
Being "Fustest with the Mostest" is the approach that many people consider the entrepreneurial strategy par excellence.
This is true.
Indeed, if one were to go by the popular books on entrepreneurs, one would conclude that being "Fustest with the Mostest" is the only entrepreneurial strategy – and a good many entrepreneurs, especially the high-tech ones, seem to be of the same opinion.
Right you are, Mr. Drucker!
They are wrong, however… \monocle tweak\
What's that you say? WHAT??
"Fustest with the Mostest" is not even the dominant entrepreneurial strategy, let alone the one with the lowest risk or the highest success ratio. \monocle polish\ On the contrary, of all entrepreneurial strategies it is the greatest gamble.
Oh no! The greatest gamble? I don't believe it! But it must be true…you have a monocle!
Do go on.
And it is unforgiving, making no allowances for mistakes and permitting no second chance.
Argghghg, why?
"Fustest with the Mostest" is very much like a moon shot: a deviation of a fraction of a minute of the arc and the missile disappears into outer space.
BUT…isn't that good?
The entrepreneur of so much of the popular literature or of Hollywood movies, the person who suddenly has a "brilliant idea" and rushes off to put it into effect, is not going to succeed with it. In fact, for this strategy to succeed at all, the innovation must be based on a careful and deliberate attempt to exploit one of the major opportunities for innovation that were discussed in Chapters 3 to 9.
AWWW, NOOOOO, EVERYTHING I KNOW IS WRONG. TELL ME WHAT TO DO, PETER DRUCKER. Just give it to me straight. I can take it. \cringe\
["Fustest with the Mostest"] will fail because the will is lacking. It will fail because efforts are inadequate. It will fail because, despite successful innovation, not enough resources are deployed, are available, or are being put to work to exploit success, and so on.

While the strategy is indeed highly rewarding when successful, it is much too risky and much too difficult to be used for anything but major innovations, for creating a new political order… or a new approach…

It requires profound analysis and a genuine understanding of the sources of innovation and of their dynamics. It requires an extreme concentration of effort and substantial resources.
In most cases alternative strategies are available and preferable — not primarily because they carry less risk, but because for most innovations the opportunity is not great enough to justify the cost, the effort, and the investment of resources required for the "Fustest with the Mostest" strategy.
NOOOOOOOOOOoooooOooooOoookay.
In conclusion: Peter Fucking Drucker says,
Back away from that junkyard dog
…unless you've got a mesh body suit with anti-flammable padding, a cage, a taser, pepper spray, a whip, a lion tamer sidekick, a djinn, and also ovaries of pure tungsten carbide*.
Your entrepreneurial mission, should you choose to accept it: find and snuggle a friendly pom. Mind the top hat.
And: Buy and read Innovation and Entrepreneurship. You'll have to read it with the eyes of a soloist or tiny team in the 2010s, and interpret what he says to help you with your situation…and you'll learn a shitload.
Happy petting.
Tungsten carbide: the hardest metal that isn't, in fact a diamond. Psh. Everybody knows diamonds aren't metal.
How do you make your first sale?
Follow our FREE roadmap from $0 to $10k and start your product business one small, achievable win at a time.
When you subscribe, you'll also get biz advice, design rants, and stories from the trenches once a week (or so). We respect your email privacy.