The way I see it, some people are meant to do charitable work. And it's up to the rest of us to ensure they have what they need. That's what I wrote last year, and I believe it more than ever.
To that end — cuz anonymous donations are bullshit — here's a breakdown of our charitable giving in 2014:
Our traditional giving…
We also offered each of our 3 employees $250 to donate and they chose:
Total: $14,739
But wait, there's more… nearly $6,000 more…keep reading!
Charitable investment, also known as the power of leverage
Obviously I'm a proponent of recurring revenue in my business, and therefore monthly donations… and charities must love them, too. But charities don't offer a recurring monthly product; the product they produce goes to the people who cannot afford to pay. That's the whole point.
There's still a huge amount of "begging" involved, however one dresses it up.
So when I heard about the Rooster Soup Co, I got really excited. Except that it took me 15 minutes to figure out wtf they were doing and why it was so amazing. And their Kickstarter wasn't doing so hot either. Probably because it was written in PR speak, and not the powerful & immediate language of need.
I helped them transform their message into a powerful call to action that everyone could understand. (Here's a video I made on what was wrong, and why, and how we fixed it.)
Their Kickstarter succeeded (and then some). They got their matching from an anonymous benefactor. It's gonna happen.
They will take high-quality chicken bones from their fried chicken business and turn it into a recurring revenue stream for a local 503(c), that gives not just food but comfort and dignity to the people who need it most. And they'll be able to do that year after year after year. 
Recurring revenue for good. Amazeballs.
I donated several hours of my time to help them with their copywriting, and Alex and I also provided a reward package worth $750 (and lots of promotion) to help put the Kickstarter over the edge.
Total value of our in-kind donations: $5,000 (including 4 backer packages)
Sadly, your time as a professional is not tax deductible. But it's well worth it to me and Alex. The value of our time will multiply and grow for each year the Rooster Soup Co helps provide meals & shelter for our needy neighbors. 
That's not just a donation, it's an investment.
And I only recently learned that my husband keeps $350 circulating as micro-loans in Kiva, which has cycled through 100s of people.
So I'm counting Rooster Soup Co and Kiva in our charitable giving tally as well. 
What's the grand total?
Drumroll, please…
Grand total: $20,089
I don't have our final revenue numbers for 2014 just yet, but based on a solid estimate, this equals 2.9% of our gross revenue. Gross, not net…not profit. Yes, really.
How we give:
We prioritize local over remote, high impact over low impact, opportunities over niceties.
That's why $10,845.98 of our donation dollars went to local classrooms and local kids, and $1,750 went to local bellies directly.
And that's why Thomas held a fundraiser/sale of his book, Retinafy, and donated 100% of the sales ($1,044) to Ferguson, MO schools, too. An urgent need.
Ours Donors Choose donations are typically for books, science equipment, and cultural experiences… because those are the things that help kids transcend shitty circumstances. You probably know I'm not a fan of schooling in general, but the fact remains that these kids need a safe place with books and paper and markers and food so they can transcend shitty circumstances, a mere accident of birth.
There's no way to grow up believing in the power of learning if your schools can't even give you anything to read, and nothing to write on.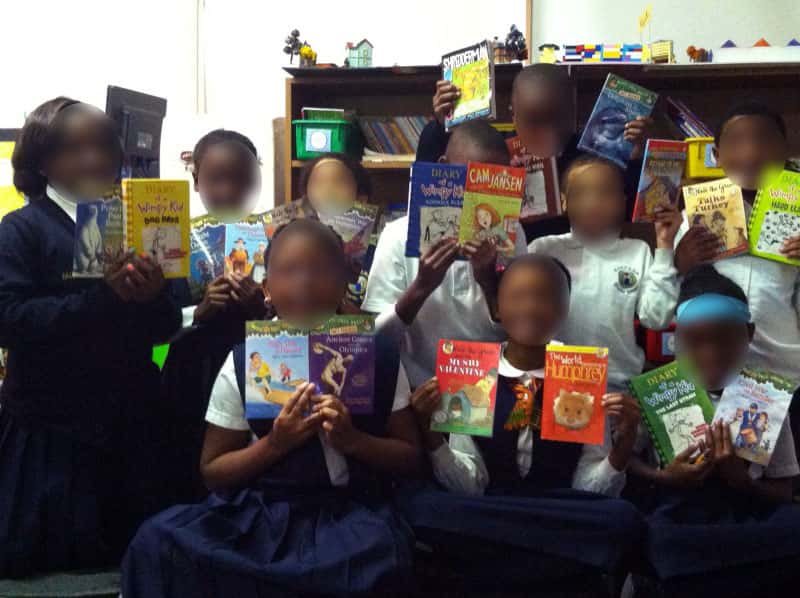 Actual local kids with the actual books our actual donations bought them, plus a scary but identity protecting face blur.
Heifer International helps give a leg up to people who can then help themselves. And so does Fresh Artists, a local charity that helps kids use the power of their own art to raise money for schools' art programs.
Project Night Night is "non-urgent" — it doesn't save a life or support education, but my hope is that they help vulnerable kids feel a little bit of hope and dignity. 
2014 vs 2013
That's a lot of money. But I had planned for it to be more.
Last year I wrote that I wanted to be more systematic and strategic with our giving. I wanted to double our percentage of giving. We didn't hit that mark. 
I'll be frank: This year blew for me, health-wise, and I didn't achieve almost anything I wanted to. I've been extra tired all year. I spent August to mid-November with, essentially, a concussion. We also had large unexpected expenses and chaos (having to SURPRISE! move offices and start a construction project on a bare space, for example).
But we did up our monthly subscription to Donors Choose; we did donate all the profits from BaconBiz to Donors Choose, and we did do a little  "fund drive" at the conference (which was a flop, but next year we'll do better), and Thomas did do a sale specifically to raise money for Ferguson schoolkids, and I did donate quite a bit of my time to help build a recurring revenue stream for a local charity. 
We did do better than last year. By a fair amount: 
We went from donating $11,182 (2013) to $20,089 (2014)
We went from ~1.9% of our gross to ~2.9% (est)
Plus some of our donations of time and money will keep producing results for years (Kiva and Rooster Soup Co). 
This January, we will set up the processes to do even better in 2015.
Your turn
Simply by being born into a country, a state, a city, a family where we can learn, in a place where we were not cut down as children by endless war, where we can advance based on skills and not parentage, where we can have books and computers and internet… we are lucky.
Time to spread it around.
What charitable giving or work have you done in 2014?
What will you do in 2015?
How do you make your first sale?
Follow our FREE roadmap from $0 to $10k and start your product business one small, achievable win at a time.
When you subscribe, you'll also get biz advice, design rants, and stories from the trenches once a week (or so). We respect your email privacy.