You don't need an MBA or fancy investors to be successful in business.
Use the 100 ideas in this tiny book to evaluate and execute on your built-in advantages, to play the Long Game of Business, and to build your own business that lasts.
Written by Alex Hillman
Foreword by Nilofer Merchant

"Wherever you are in the process of starting a business—regardless of size or industry—stop. Read this book."

---

Katel LeDû


CEO, A Book Apart
"...important, thought-provoking ideas about entrepreneurship & business practice. The pages on creating & maintaining partnerships alone are worth the read."

---

Josh Kaufman


Bestselling Author, The Personal MBA
"You'll finish this book in one night, but the lessons will last you for a lifetime."

---

David Dylan Thomas


Author of Design for Cognitive Bias
"There is only one business book you need to buy. Just one. 🔥 I pack this in my bag every damn day."

---

Joan Westenberg


Director of Content at Linktree, Founder of Studio Self
"The Tiny MBA gave me a different perspective on what it really means to start a business."

---

Nadya Primak


Game developer
"Right now I'm looking to level up, and this book just came in the right time. So much impact in so few words. All signal; no noise."

---

David Ojeda


Founder, Perro Dinero
What you really need to know is something that most business people won't say out loud:
There is no single right way to do things in business, but there are plenty of avoidable mistakes along the way.
The Tiny MBA offers 100 pointed pieces of guidance that will help you begin to think like someone who has started and run their own business for 15 years and intends to keep doing it for a long time.
Each page of the book offers ideas and prompts and clues and suggestions and reflections to help you navigate business in ways that most people only learn the hard way.
Some pages reference some of my favorite books and articles that you can read to go even deeper.
My "back of the book" promise to you:
If you dip into this book once every few months (pretty easy since it's just 30 minutes to read), or even once a year, you'll find something new to chew on every single time.
"This is one of the only books I would gift to a complete stranger and also regularly revisit myself."

---

Corey Haines


Head of Growth, Baremetrics
"This is the best modern business book I've read this year."

---

Andrew Kamphey


Founder, Influence Weekly
"...full of little insights that made me stop and think, and even more that I made a note to take action on."

---

Dave Ceddia


Author, Pure React
"...the a culmination of every important piece of advice that you wish someone had told you when jumping into entrepreneurship."

---

Lauren Tilghman


Communications Specialist
"If you're starting a business, then you would be wise to follow this advice, or at least have a plan in place to follow it — and the sooner, the better."

---

Reuven Lerner


Python & Data Science Trainer
"...it's like Jenny Holzer's 'Truisms' but for the entrepreneur's soul. The Tiny MBA's quotes, observations, & tidbits of advice keep floating back to the top of my mind since reading."

---

Becca Refford


Freelance Designer
Choose your format
This pocket-sized book of bite-sized lessons includes topics like:
Sales, and Why People Buy
Money and Success Psychology
Branding and Marketing
Professional Decision Making
Investment, Scaling, and Hiring
Dealing with Clients, Customers, Partners, and Competition
How to Play The Long Game
...and Much Much More
All versions include: further reading recommendations, inspiring digital art for your phone's lock screen and desktop backgrounds, and discounts on future editions.
International Shipping
International shipping options are available at checkout. Please contact us if you don't see your location listed as an option.
Here are some of the places around the world we're already sending books!
Digital Only Book Details
Choose the "Digital Only" option from the dropdown to order a digital-only version of The Tiny MBA.

Digital book files are delivered as high resolution and DRM-free PDFs that are tablet and Kindle-friendly.
⚠️ Notice for some Amazon Kindle customers
About the Author
👋 Hi, I'm Alex Hillman.
In 2006 I co-founded Indy Hall, Philadelphia's first coworking space, which also helped kickstart the coworking boom that has exploded today.
Since 2009, I've been running this site aka Stacking the Bricks with my friend and biz partner Amy Hoy, where we teach creative people how to bootstrap their own businesses.
I live in Philadelphia with my wife and friends. I love food, travel, red wine or whiskey, and karaoke. You can follow me on Twitter.
More Reviews and Testimonials
It's an extremely fast read, but it leaves you with stuff to think about for days and even weeks to follow. It strips away any excuses or delusions you have about business, but without condescension. In fact it is one of the more encouraging books I have read on the subject of starting a business. It gives you a reality check and a push in the right direction, which is exactly what I needed.
Read Nadya's Primak's Full Review
"This is a business book that fully embodies a community construct."

---

Nilofer Merchant


TED speaker, author, executive
"...contains the most value per word of any business book I've ever read. By far."

---

Louis Nicholls


Creator, Sales for Founders
"This is one of those books that give you the perspective you need to grow, no matter where you are on your journey."

---

Nick DeJesus


Software Engineer + Tech Educator
"Alex pushes past common misconceptions to get to the counter-intuitive heart of the matter. This book is filled with these hearts."

---

Geoff DiMasi


Founder and Partner, P'unk Ave
"...a single, huggable little compendium of ideas that will trigger thoughts you can use on your own business journey."

---

Brian Ball


Co-founder App Zapper
"It took me until the 10th page to realize I'd taken a screenshot of EVERY page. EVERY page makes you THINK."

---

Brendan Hufford


SEO For the Rest of Us
"Reading this is like a jumping into your local martial arts studio for a workout with a black belt who forces you to focus."

---

Jacob Bolda


Software + Structural Engineer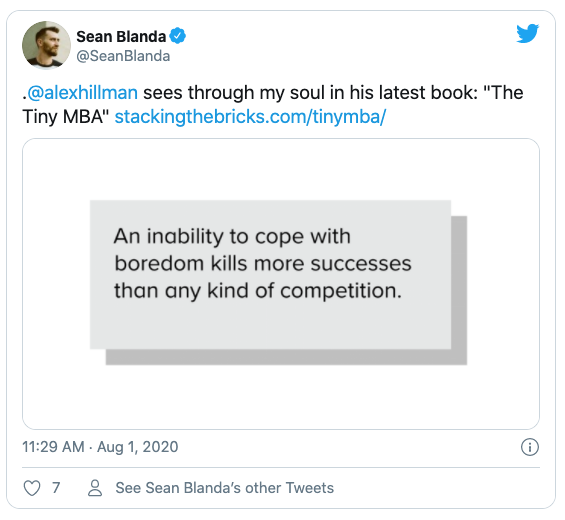 Even more reviews for The Tiny MBA on Goodreads
---
Choose your format