1
Fact: Since 1970, virtually every penny gained through productivity has ended up in the pockets of capital, rather than labor: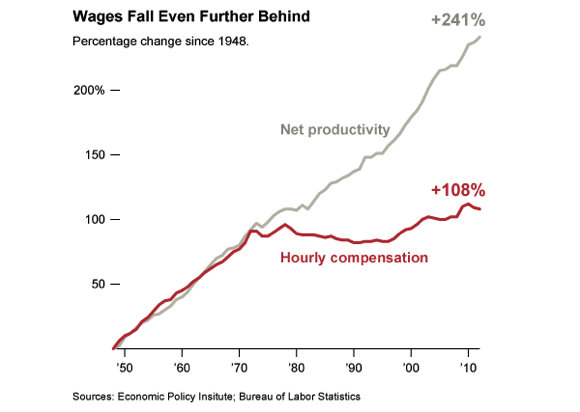 2
Fact: While profits are up 44.7%, incomes are up only 3.9% since 2007.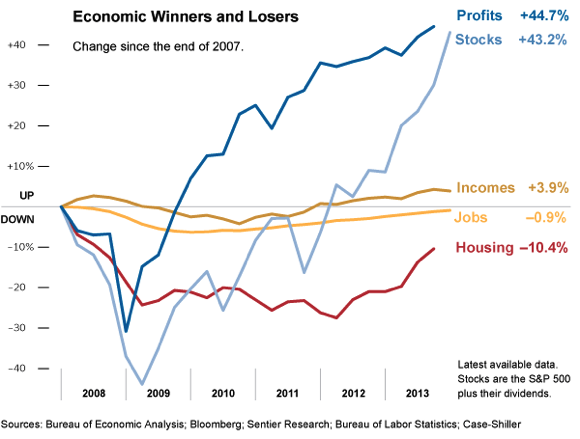 3
Fact: Tech workers are not immune. Over 1 million tech & creative workers have been affected by a wage-fixing conspiracy.
4
Fact: Most venture capital funds do worse than the stock market. When the institutional investors' behavior catches up to reality, it's going to be a cold, cold winter in startuplandia.
Conclusion…you're on your own
Whether you're at a profit-generating business and making do on the scraps left over after the C-suite and the stock market take their cut…
Or you're raking it in, relatively speaking, thanks to your high-tech salary at a venture-backed startup…
…you're on your own.
Either you're being shortchanged, or you're in a tenuous position that will falter when the industry has an "adjustment."
Best recognize it, and plan accordingly.
Bootstrapping is the best of all worlds
When you create your own value-producing products, you create the best possible system of rewards: You help your customers, they thank you with cash. You maintain total control. All profits go to you.
This immediately impacts your own well-being, your family's well-being, and the well-being of the neighborhood businesses you patronize; if you grow, you have every reason to become a better & more fair employer than the people who employed you.
Yes, it's slow to start; yes, unless you've saved your pennies, you'll have to do it on the side.
If you're a designer, developer, writer, or trainer…you've got the means of production in your head. You can do it on the side.
Costs for starting up have never been lower. Tools and support for bootstrapping have never been better.
All you have to do is:
And don't do it alone.
Here's how to get started:
How do you make your first sale?
Follow our FREE roadmap from $0 to $10k and start your product business one small, achievable win at a time.
When you subscribe, you'll also get biz advice, design rants, and stories from the trenches once a week (or so). We respect your email privacy.