On Monday, on a whim — with about 30 minutes' notice — I joined my friend Nathan in his 24 Hour Product Challenge. Want to read my own personal blow by blow? Here's my diary from the day.
Sales so far…
**I've sold 165 copies for a gross of $1,968.** As of 12 noon today (Thursday), or exactly 72 hours after the challenge began.
Saturday at 7:30pm, $3,200 in sales.
Sunday at 5:15 pm, 299 sales for a total of $3,432.
After emailing our newsletter about the book — for the first time, basically just "hey I did this thing, here's the link to my diary"… Monday, 9pm, 394 copies, $4,569. Not too shabby for 6 days and 1 hours!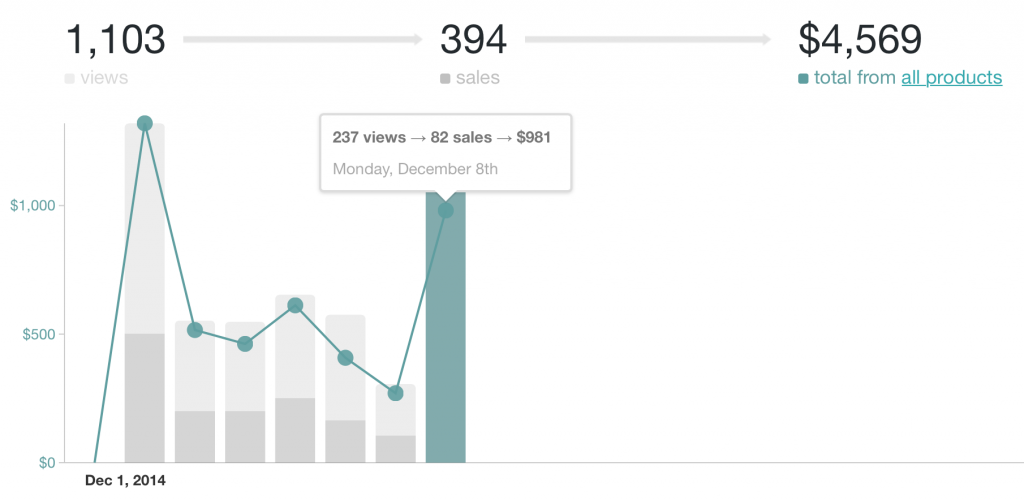 Result: Success!
I wrote & launched v1 of an ebook in 24 hours and 15 minutes. (Calendar time — I actually took a lot of breaks and got a full night's sleep. Cuz I'm efficient like that, as I explain in the book itself.) Feels great!
Total time writing during the 24 hour challenge period: 9 hours, 15 minutes
That was for the initial version that shipped at the end of 24 hours. I didn't completely finish the book, but I finished it enough to start selling it. Last night I shipped out the chapter complete edition to early bird buyers.
Total time writing for the chapter complete edition: 17 hours
Total work time from Monday at 12:45 til now: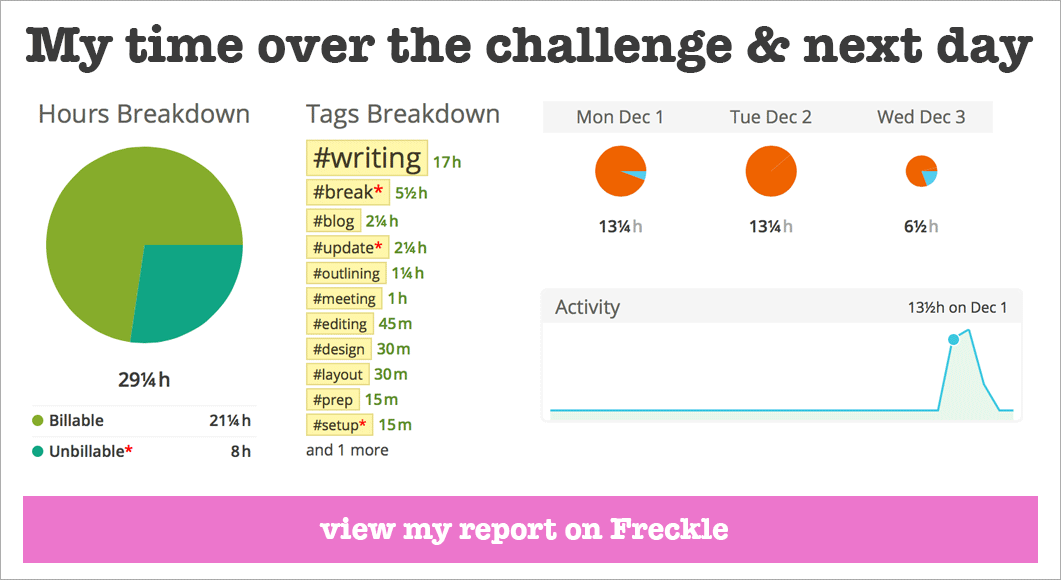 Click above to check out the full report using Noko Time Tracking.
Thanks to a little bit of time and a lot of discipline and smart techniques, I've got a book! And nearly $2,000 in sales. Not shabby!
Want to learn the same techniques I used to write & ship the first version of an ebook in 24 hours? JFS includes all those techniques and a chapter on how I applied them to just fucking ship Just Fucking Ship. Cuz meta.
Get your copy for just $19. You'll get the updates, the edits, the new graphs, the additions to the "how we did it" story as they happen!

Now what?
Now begins the Great Finishing Up. Already had some great feedback from early buyers & early readers. Now it's time to…
polish
tool
market systematically
launch again (and again)
AKA now that I've successfully shipped the book, it's time to do the stuff that stops most people from shipping! No coincidence there.
More details:
Polish
My to-do list looks like this:
finish the appendix on tools
go thru and edit every chapter in order (already done some)
either figure out how to tweak Ulysses' export styles to be more professional looking in terms of typography, or export to iBooks Author and tweak it by hand
take the logo and design a real cover
draw some fun sketches to include in the book as art, to break up the text
add screenshots where appropriate
edit & package up the screencast I made showing how I used chanson to really rip through the writing
export to Kindle format and put on the Amazon store
There's a reason nothing on here is critical to the ability of our early bird readers to use the book. The important stuff — the lessons — are already all there. The rest is just nice.
That's by design.
Tool (as a verb)
Tooling is the stuff around the polish and marketing, the things we use to do that. Alex and I, together, will:
set up tagging and reports for buyers & interested parties in our email marketing tool
set up an email drip campaign, in terms of mechanics (signups, reports)
rework the landing page to gather emails even if people aren't ready to buy
figure out how to best work with the Kindle store
export to Kindle format & pay someone to ensure it's all good
set up something to persuade Kindle buyers to give us their contact info, so we can get them into our ecosystem as leads
Market systematically
Using the above tools, now it's about the strategy + the content.
Free samples, a webinar, emailing our list (duh, this should be step 1) — packages…a list of blog posts to write, that sort of thing. This is NBD, it's the stuff we do all the time anyway.
The key is that we'll be using the sophisticated tooling, the drip campaign etc., to create a rolling launch that'll be Set It And Forget It. It works great for 30x500 which costs about $2k per head, so it'll definitely work for a $19 ebook.
Launch again (and again)
I didn't stress about a big, perfect launch. I didn't even take the time out to email my list about this challenge because I was too busy writing furiously.
I wrote about this in JFS: It's great to splash out with a big launch, but far from required.
Without a sophisticated launch sequence — or even an email — I made just under $2k in sales already.
That's cuz the whole "writing in 24 hours in public" thing is a fantastic event. And events are what move people to pull the trigger and buy stuff.
This launch is not the end, it's just the beginning.
So it'll soon be time for me to design another event…the next inflection point that gives people a reason to decide to buy now vs some abstract time in the future.
The easiest reason in the world? An upcoming price increase, as we ship the final version. (Pssst — remember, that prices goes up Monday, by 50%!)
Then we'll set up a rolling launch with the drip sequence above.
Our new product funnel is the exciting bit
Til this week, the only way to buy into our product universe was to be a high roller. Your choices were: Read the blog for $0 OR attend 30x500 for $1,950+.
Just Fucking Ship! is going to be an awesome first step to turn readers into buyers — who will then execute on my advice, reap the rewards, and decide to buy more.
*Sshshshsh* — that's the sound of me rubbing my hands together in glee.
JFS is the cheapest thing we've ever offered, by a factor of 16 times. The 30x500 Bootcamp currently costs 165 times more than JFS.
From $0 to $1,950 is quite a leap to make on your first purchase. I can't even imagine how much money we've passed up because of it. I have zero regrets — we made a lot, too, and 30x500 almost always sold out.
Suffice to say, though, I am very ready to build out the steps between $0 and $1,950.
Right now, we do have a sales funnel (and it works great). But how much better to have a product funnel and get paid at each step.
I'll keep blogging about this periodically.
So be sure to sign up below to get my next essay in your inbox.
And…if you want to learn the same techniques I used to write & ship the first version of an ebook in 24 hours? JFS includes all those techniques and a chapter on how I applied them to just fucking ship Just Fucking Ship.

Keep in touch, now!
Follow me on Twitter too for the back channel.
Pop your name below & we'll email you when exciting stuff like this goes down. And you'll get our 7-part guide to no-BS bootstrapping, too.
And don't forget to check out Nathan's updates. He made the 24-hour deadline. With videos, no less!