The "Stacking-the-Bricks-a-verse" just got a tiny bit bigger!
Our newest product, a pocket sized book called The Tiny MBA, is on sale for pre-orders RIGHT NOW through August 26th. 🎉
This is our smallest product, ever!
Once in your hands, you can read it in about 30 minutes. That is not a typo! Which means unlike many other books and courses, you can buy this one and actually read it. Hopefully more than once. That is by design!
"I've read a bunch of business books. And by 'read,' I mean I usually get about half way through – get distracted – and never go back. I'm really not the best at finishing books."

---

Dave Ceddia


Author, Pure React
This is our most affordable product, ever!
You can pre-order the pocket-sized paperback book and have it shipped just about anywhere in the world for under $20, all in! Or you can pre-order the digital Ebook for less than the price of a burrito.
But don't let the tiny size (and price tag) fool you
Here are some more choice quotes from early reviewers:
"Wherever you are in the process of starting a business—regardless of size or industry—stop. Read this book."

---

Katel LeDû


CEO, A Book Apart
"This is the best modern business book I've read this year."

---

Andrew Kamphey


Founder, Influence Weekly
"This is one of those books that give you the perspective you need to grow, no matter where you are on your journey."

---

Nick DeJesus


Software Engineer + Tech Educator
And game designer Nadya Primak said in her full review: "The Tiny MBA gave me a different perspective on what it means to start a business."
What I really want to drive home about this book is something that most experienced business people don't say:
There is no single right way to do things in business.
Instead, I'm offering 100 tiny pieces of guidance on how to think like someone who has run a business for 15 years, and intends to keep running it for a long time.
Each page offers prompts and clues and suggestions and reflections about navigating business that most people only learn the hard way. Some pages include additional articles and books that I recommend reading, too!
My promise is this: if you dip into this book once every few months (easy since it's just 30 minutes to read), or even once a year, you'll find something new to chew on every single time.
Pre-order your own copy now and get it a week before everybody else
Since opening pre-sales a few days ago, more than 500 people have already ordered, and The Tiny MBA even ranked as #1 as a New Release and a Bestseller on Amazon!
The Tiny MBA officially ships in paperback and ebook editions on August 26th, but if you pre-order, you will get the book a full week early!
Here's the important details about pricing, shipping, and digital bonuses included that are included.
Available Formats: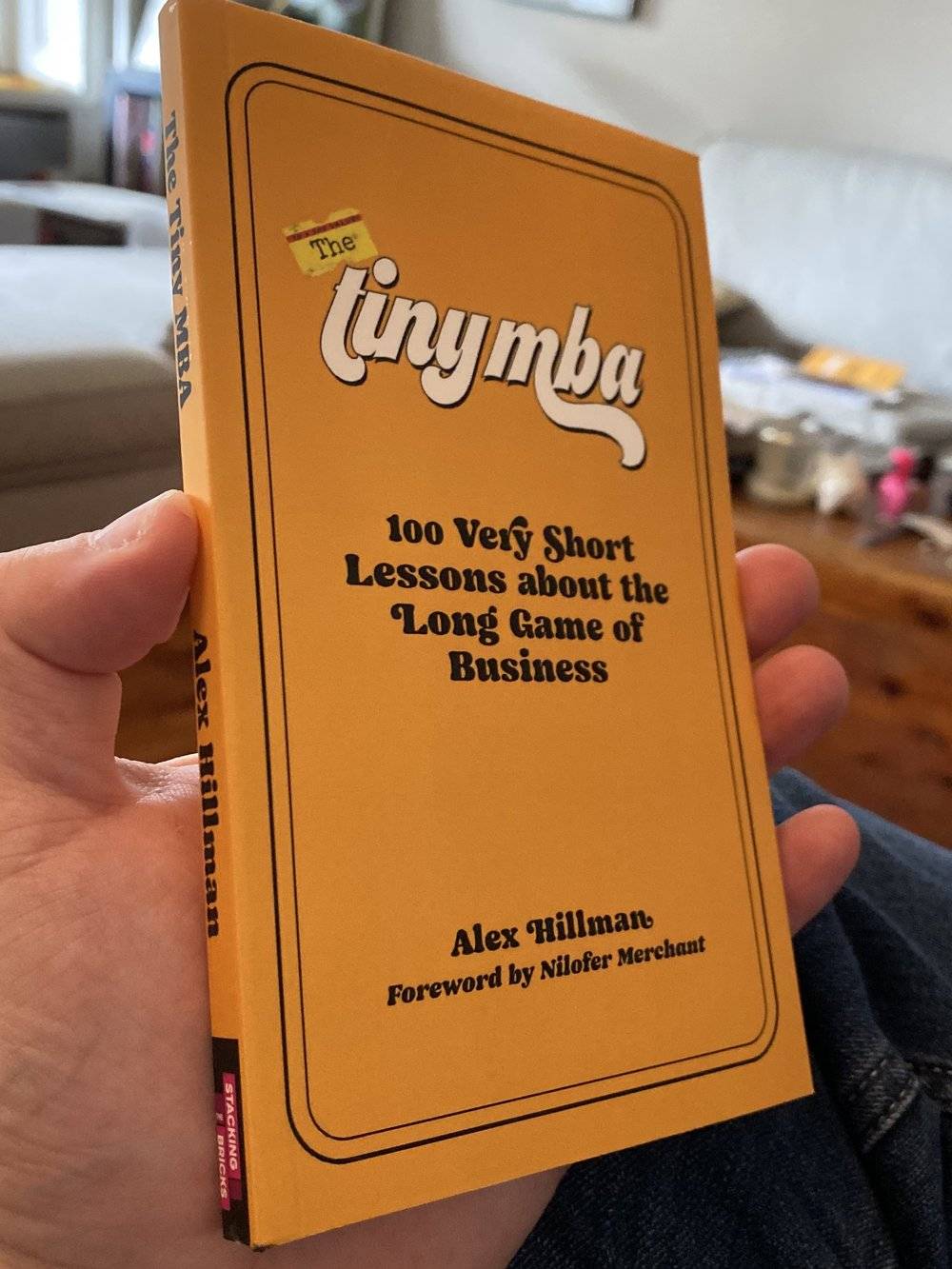 This is our first physical book! If you love a physical book, this pocket-size paperback that feels absolutely great to hold.
​Paperback is $9.99 + shipping during presale.
If you live a minimalist lifestyle (or try to avoid shipping costs), you can choose high resolution and DRM free PDF Ebook that loads beautifully on tablets and Kindles.
​Both ebook options are $7.99 during presale. Or buy direct on the Kindle store!
Shipping:
​Paperback books are shipping anywhere in the US for just $4.99, or worldwide for just $7.99. Expedited shipping options are available in the United States, too!
Digital Extras:
​The paperback version of The Tiny MBA automatically comes with a digital copy in high resolution PDF Ebook, so you can read and reference it anywhere at anytime.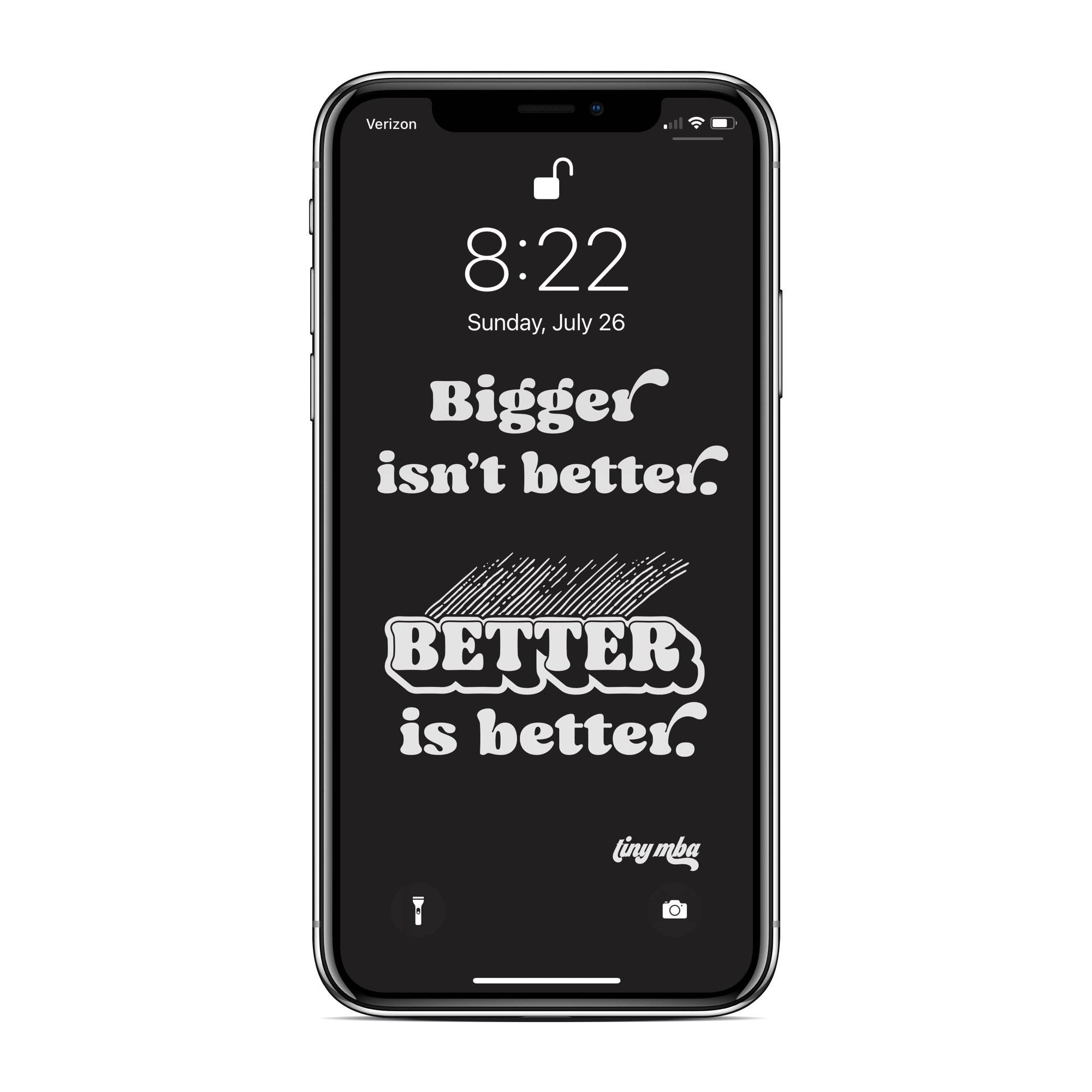 As an extra thanks for being an early supporter of the book, all pre-orders ALSO will get access to a collection of digital desktop and lockscreen backgrounds based on quotes from the book that you can use to keep some of the most valuable lessons right in front of you at all times.
Can you help spread the word?
We are really hoping this book can impact people far and wide, so after you get your copy, we would very much appreciate your help spreading the word about the book being available!
You can forward this email or share https://tiny.mba on social media. Of course, there's absolutely no pressure.
If you've already bought your copy, THANK YOU and we hope you love the book when it's in your hands!