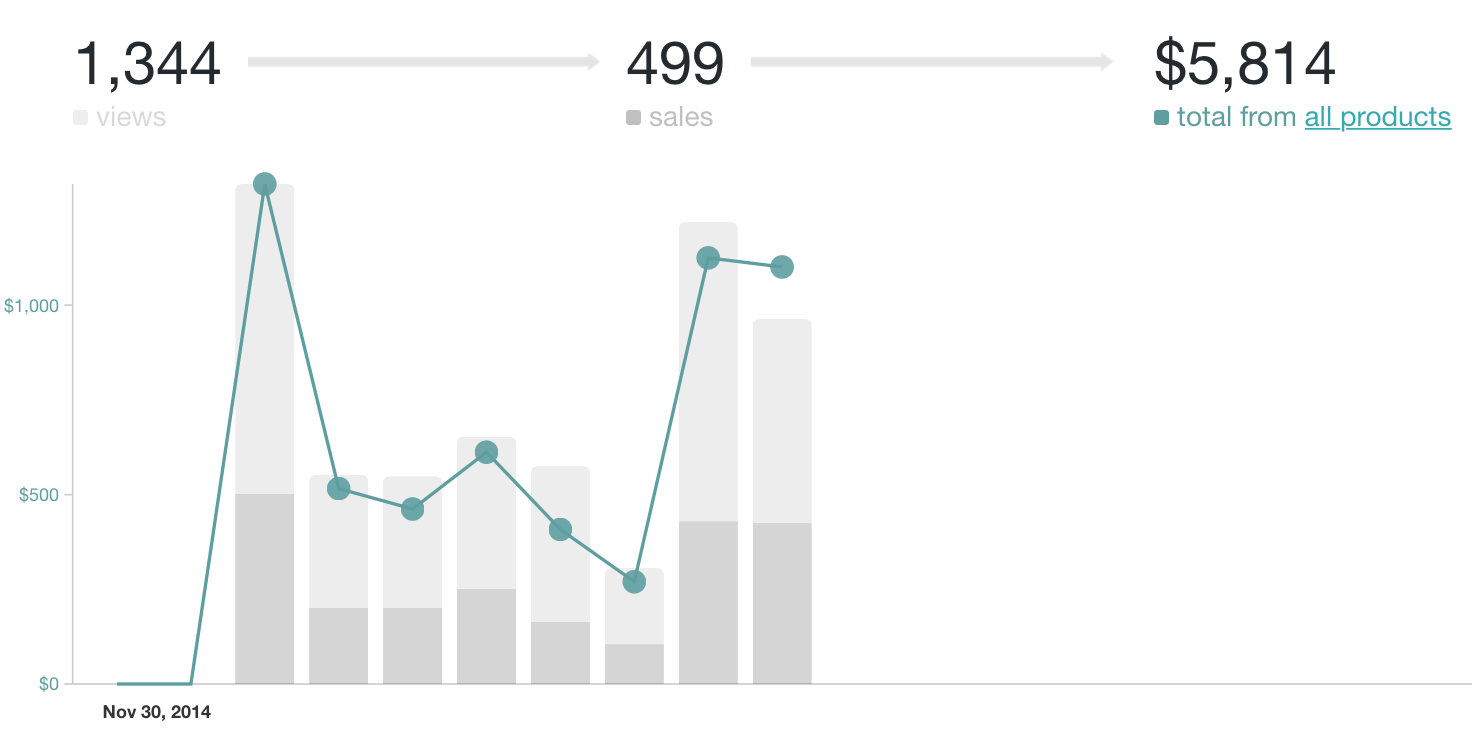 OKAY LET'S REVIEW:
Last week…
Monday, 12:45pm — I decide to join my friend Nathan in his 24-hour product challenge. Started with a blog post, where I journaled my process/experience
Next 24 hours: I put in some solid hours and write the first version of a book! While taking breaks & getting a full night's sleep, cuz I'm so metal
Tuesday, 1:15 - Shipped the first version of the book for sale ($12)
Tuesday, later - Started hearing from the first happy customers…yessssss
Wednesday - Finished the remaining chapters, which was pretty hard cuz I was really tired
Thursday - Wrote I wrote a book in 24 hours. Now what?, about all the stuff that's left to do & where this 24-hour sprint fits into our bigger product roadmap (cuz it totally does)
Friday - Sent out the chapter complete version to the early bird customers.
Saturday & Sunday - Aside from tweeting & answering emails, nothin'
That was last week. (And it omits the sick day and non-book-stuff I was doing.)
Note that there wasn't anything in there about marketing, other than updating my post. And yeah, watching somebody create a product in 24 hours is pretty exciting. So there's that element of build up… but I didn't do anything other than write about what I was doing. Not the most devastatingly persuasive marketing process ever.
We have a domain name, but it doesn't point to a sales page. Our sales page is just… a page on the blog without any customizations. WE HAVEN'T EVEN SPLIT TESTED IT OMGGGGG.
So what's with this cool metal horns chart?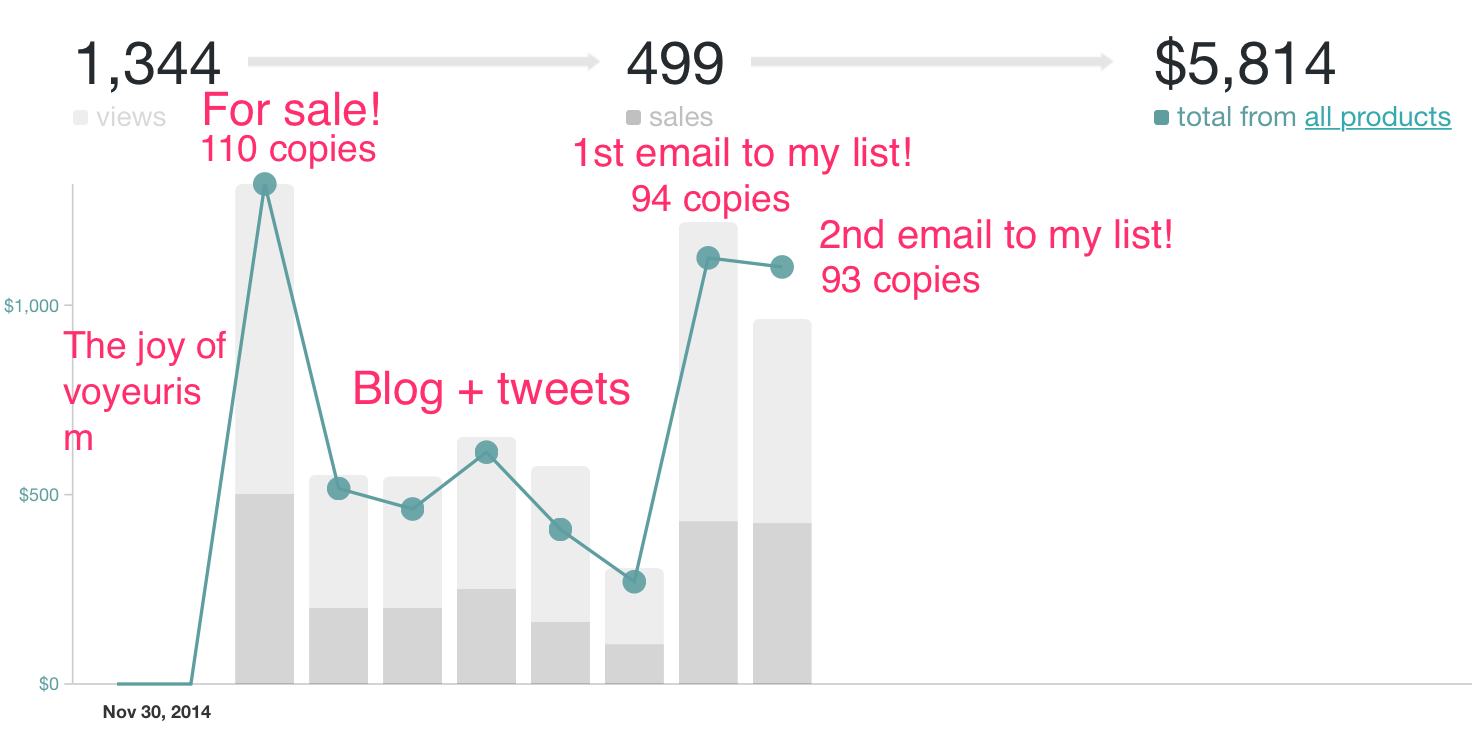 Well, let's see.
This week…
This Monday
I started off my day with emails and stuff to the contractors and architect we're involved with for building out our new office. Then I had lunch with one of my employees to catch up…and when the food hit my stomach, I found out that I was hungover. (We all got to celebrate the night before. Woo, celebration!) I also had to go to physical therapy for my ankle/hip problems. So basically, the day was a wash.
Except…I put in a little bit of work and…
Emailed our list for the first time about the whole challenge — a purely "here's what's going on!" email with a link to my journal post, no buy link. Read this email.
Result: 94 sales!

Yeah!
This Tuesday
Back to work forrealz:
Emailed our list a second time, with a more crafted message and buy links. Read this email.
Reviewed the book to prepare for editing — for 2 hours & 45 minutes
Wrote this post — ~1 hour
Result: 93 sales thru 8 pm, when I originally wrote this post…by midnight, 107 sales! 
That brings us up to 499 sales. *499 SALES. JUST. ONE. MORE!*
By midnight: 513 sales!
My review (aka preparing for structural editing) looks like this: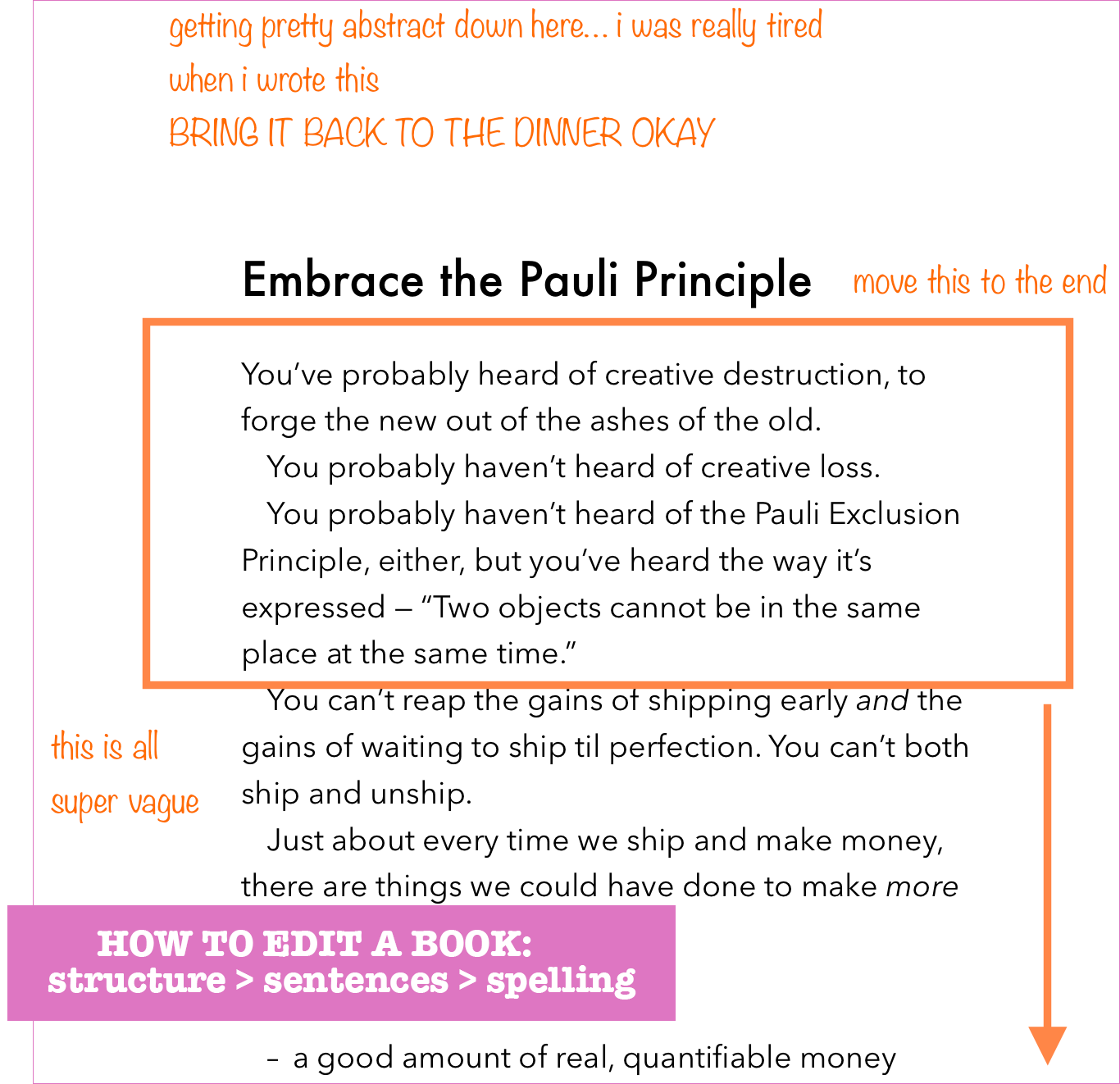 Actually, while I was writing this, two more sales came in. After sticking it out at 499 for hours, woo woo it's 500 — nope, 501! Nope…513!
So the second day of our non-launch (107 sales) actually made more sales than the first day (94 sales)…and both made nearly the number of sales as the very first day it was for sale (110 copies).
If you know much about launches, you know that's weird. And awesome. And all part of my evil plan. More on which below.
NEXT: This Wednesday
Here's our hit list:
CURRENTLY WORKING ON: incorporating my edits, at least the ones I can do immediately
me: draw a graphic or two
me: complete the cover design

switched out in favor of working on the PDF export styling (1.5 hours today so far, made all the diff)

Alex: point the domain name to our landing page
Alex: Create a CTA for our front page for a free sample
Alex: Brainstorm an email freebie to get folks on the list, then sell them on the book
And so on. End goal: To use this book to not only generate ongoing $2,000+ a month in revenue, but also turn casual readers into buyers. It's gonna take some doing, but it should be totally possible with the right marketing systems.
As of right now (4pm Wednesday) looks like not everything in that list will get done today. Guess what? That's totally fine.
11am: Fixing up the layout!
Right now Just Fucking Ship is an ebook in PDF format — and it's not laid out by hand, it's generating using the export function in Ulysses. And it looked pretty crappy. Line spacing and margins and widows and orphans and awkward page breaks — yuck. So instead of working on the cover (which was my plan) I chose to work on that instead.
Spent 1.5 hours, according to Noko.
Before vs After: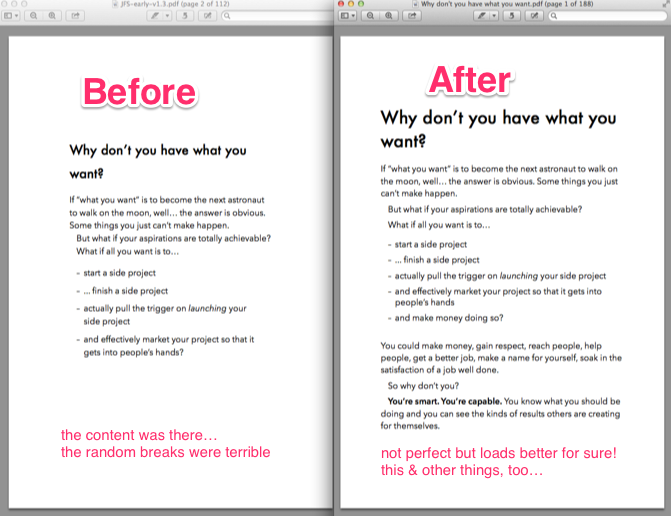 1pm: I start editing forrealz
Pretty big task ahead of me…oh boy! Good thing I have all those marked up notes I prepared yesterday, and all the components (aka chapters) broken out into my Trello board.
I just renamed the "Written" list to "To Line Edit" and dragged it over to the other side of "Done" and away we go…
4pm: Editing…editing…editing…
RIGHT NOW I'm ripping thru each chapter one by one, thanks to the all the notes & markup I did yesterday… using the exact same process I used to write them in the first place. (Again, the same techniques you'll learn when you buy your copy of JFS!)
It looks like I'm only a few chapters in, but those chapters are a doozy: 5,217 words out of a total 14,886, or 35% of the way thru today. Noko tells me I've spent 3 hours editing today. So I expect a total of 9 hours to finish editing the whole book to a high degree of polish.
Pardon the sloppy graphics. I'm busy.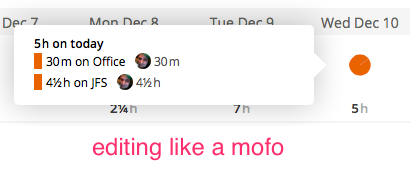 You can watch my progress, live, with Noko Time Tracking, just give it a click: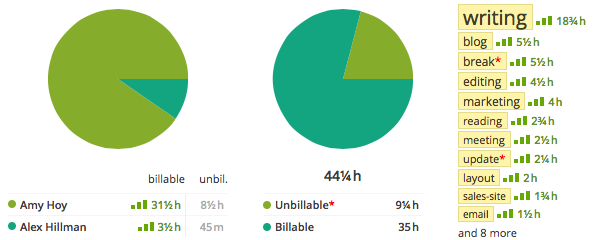 (not quite 3 hours of editing in this screenshot; 1.5 hours were spent on the layout today)
4:30 pm
I'm kaput. I wasn't feeling fabulous today (but a lot better than many other days). The fact that I had organized my work so well, had prepared so much, was the only reason I was able to get so much done. (PS: Read the book to find out how.)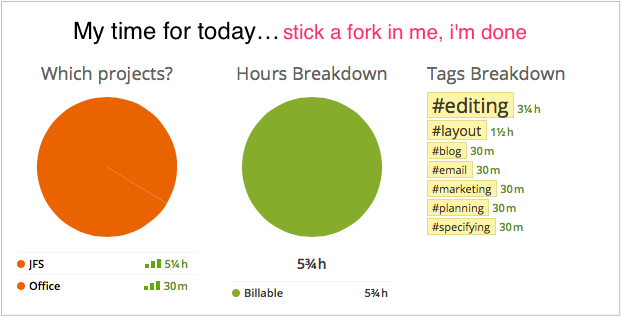 Looking ahead…
But even though our soft launch week has been fabulous, and there's a lot of work ahead, we can do more. SOOOoooOo much more.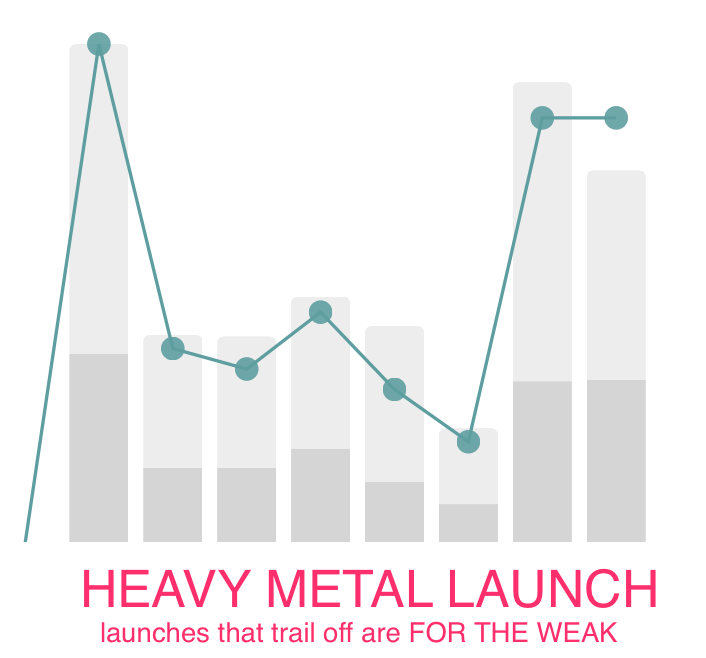 Hey, wait, that's a weird launch curve…
My book is called Just Fucking Ship. Nope, it wasn't perfect when I shipped it.
Yes, it's sold 501 copies for a total of $5,838 in revenue in a week.
Yep, this blog post is a little sloppy. Right now, I'm a little sloppy. But that's not the point, is it? There's stuff in here you can use, now. That's how I roll.
No, I didn't prepare the perfect launch strategy — and, in fact, there's a whole chapter in the book about why that's not only fine, it's great. It's called Your next launch — emphasis on next. Even though I've emailed our list twice, the real launch has yet to begin.
Yes, later days have been selling more copies than early days. That's part of the whole plan.
You can read more about our much, much bigger & longer term product strategy — but the real key is…
If I hadn't accepted Nathan's challenge, I would have eventually written the book, but it probably would have been a while til I got to it.
If I hadn't sat down and used a crispy and backwards plan and took care to mise en place before I started writing, I never would have been able to produce nearly 12,000 words in two work days. (Unedited, but still pretty good!)
If I hadn't followed my own JFS advice to start small, break it into components, and forget about perfect but focus on every version better — well, I wouldn't have "finished" in 24 hours.
If I had focused on this launch instead of my next launch, I would have made excuses: "It's not ready to launch. I didn't do enough."
If I had let myself wonder if it was worth it, if anyone would buy it, what people would think if I shipped a shitty first draft, etc., there'd be no book at all.
I wouldn't be hearing from happy customers. I wouldn't have helped people.
And those $5,838 $5,979 dollars wouldn't be mine.
It's all in the book. Get your copy.
Those italicized phrases are some of the 21 principles you'll find in Just Fucking Ship. And there's a totally awesome chapter in the book that explains how I used those principles to ship the book, and how I'll keep using them to make it a huge success. Including the principles that explain why it's better to ship without the perfect launch.
All those techniques & stories will get rolled into the book as they happen.
Get your copy for just $19. You'll get the updates, the edits, the new graphs, the additions to the "how we did it" story as they happen!

JFS, my friend!