On Monday November 20th, around 1:30pm, Amy and I decided to assemble our first ever Cyber Monday bundle.
The only problem was that we were just 7 days away from Cyber Monday. That gave us less than a week to make it happen…and that included taking a break for Thanksgiving!
---
This article is a nuts-and-bolts, detailed look at exactly how we assembled and launched a giant Cyber Monday digital product bundle in less than 7 days.
I'm going to talk about the tools we used, and how we used them.
I'm going to talk about the decisions we made along the way, and how we made them.
And most of all, I'm going to include ALL of the numbers, including conversion rates, sales numbers, and more from during our three-day Cyber Monday sale.
Ready? Here we go!
Day 1 - Monday, November 20th
Amy and I spent most of our first day digging into our product archives and deciding on what belonged in the bundle.
DECISION: What should we put into the bundle options?
Once we decided that Amy's book Just F#&!ing Ship would be an ideal "anchor" for the bundle, everything else started to fall into place. JFS itself was originally created a few days Thanksgiving with themes of year-end reflection, holiday meals, and "getting off your butt and finally shipping that thing!"
All we had to do was follow that through line, and we'd be golden.
I also suggested that we could discount our normal JFS and JFS Premium packages. This essentially gave us two ready-to-go bundle options for our customers to choose from, and we just had to stack our special Cyber Monday MEGA bundle even higher with valuable goodies for our prospective shippers.
We decided to add:
Sales Safari Live. This is the only way to learn how to do Sales Safari without shelling out for 30x500. Originally a live workshop, we've edited the live event together with interactive timed practice exercises so anybody can learn the fundamentals of Sales Safari, anytime.
From Pain to Product in 3 weeks. This 90 minute presentation details how Amy turned research (aka Sales Safari) into her latest SaaS: Sweep. (More on Sweep below).
Build a Better Ebomb Scorecard. We created this lesson and workbook package to help people analyze successful content marketing and apply those lessons to their own content.
How to Ship a Side Project with Brennan Dunn. Deep from the archives! This audio file is pulled from a live video recording with Brennan Dunn early-ish in his product career. It's always helpful to see where super successful people started and realize…oh, they started at the beginning, too.
While we sifted through other potential products to include, Amy reminded me about the "mini-course" on habit change that we built years ago for 30x500 students. Building better habits for shipping and success fit nicely into our bundle.
The only potential challenge was that this "product" wasn't much of a product yet. We would need to do some clean up on the exercises and videos, and turn the in-class examples and discussion into useful (and nice looking) workbooks. And we were on a crunched timeline, with less than 7 days to go.
We decided it was possible, we just needed to watch the clock! Thankfully, turning this mini-course into its own product has been on our wish list for a long time, and we'd already excavated most of the pieces we needed for this Habits guide a while back. Thanks, past us!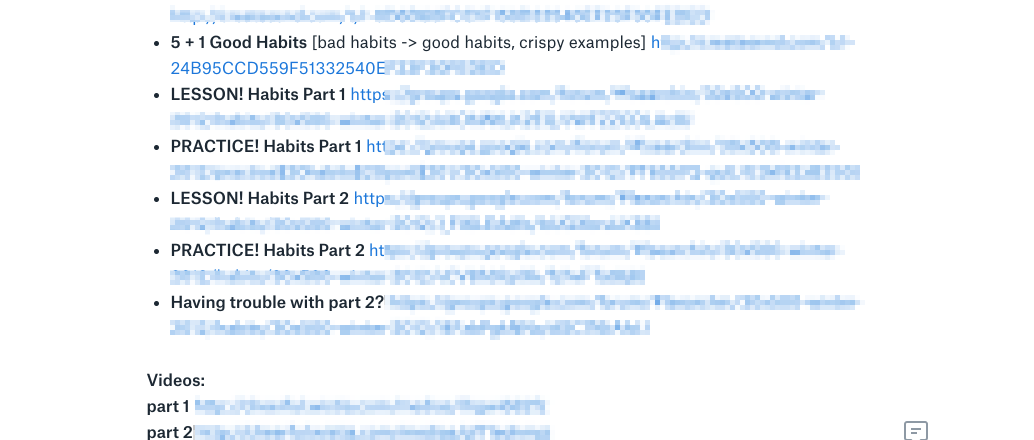 And last but definitely not least, Our bundle buyers would be getting 3 free months of Sweep!
Amy and Thomas recently launched Sweep, their latest SaaS to help busy business people manage their important recurring tasks instead of relying on a cluttered calendar or easy-to-miss reminders. It's perfect for making sure the right steps get done, on time, every time.
Near the end of day one, we had one final decision to make.
DECISION: What software were we going to use to sell our bundle?
Following JFS rule #8 of "Shop the Shelf" we've used many digital product sales tools in the past. We just haven't loved any of them. And we had been looking for an excuse to take Samcart (full disclosure, that's a referral link) for a spin since we found it earlier in the year.
Truthfully, there was a tiny bit of risk learning an entirely new tool with such a short timeline. But Samcart had some really nice features including a special cart template designed for pricing tiers that made a lot of sense for selling our three tier bundle.
Crucially, Samcart charges a flat monthly fee service regardless of sales volume. This capped our costs during the bundle, which wouldn't be the case with a tool that takes a % of sales on top of the payment processing fee.
If we tried Samcart for this promo, we'd quickly learn a lot about what the platform could and couldn't do. And going forward we'd use what we learned during the promo to be smarter about making a more permanent switch to Samcart for our product portfolio.
Alrighty, Samcart. Let's dance.
Day 2 - Tuesday November 21st
Okay! Yesterday we made decisions about what to include in the bundle. We had organized a bunch of tools that would help people channel their New Year motivation into something they'd always wanted to do: ship more stuff, including more stuff that people want to buy!
Armed with this direction, Amy could sink into the copywriting for our sales page.
Once again, we were watching the clock and wondering how we could use our existing resources to give us a running start:
We knew that the pitch for this bundle was going to be JFS focused, perhaps with a bit of inspiration from Amy's popular essay Don't Fave This Post
Amy would follow our battle-tested Pain/Dream/Fix copywriting formula.
Rather than create an entirely new site, we agreed to have it live as a page on our main domain stackingthebricks.com (the site you're on right now).
In addition to writing the sales copy itself, Amy could punch up the copy we already had for about half of the bundle bonuses thanks to building on JFS Premium.
Boom, and boom.
ALERT: The Samcart Learning Curve & Other 💣💥
The clunky cart software we've used for the last few years has made us quite a bit of money, but the more streamlined checkout Samcart has "out of the box" was going to be much nicer for our customers. We hoped that this would translate to a boost in our cart to checkout conversions, too. 📈
Unfortunately, this "out of the box" feature took me a about 90 minutes to get working with our bundle options. That seems like a lot of time to me…and I'm not exactly a software dummy.
The trouble is that one of Samcart's biggest upsides is also one of its biggest downsides: it's more customizable than most of the carts we've looked at, but the flip side of that coin that there's a ZILLION settings. I found myself spending a lot of time clicking buttons just to see what happens.
The good news is that now know what I'm doing, so I'll be able to go a lot faster next time.
---
Configuration woes aside, the BIGGEST drawback to Samcart I found are its limitations around digital file delivery to customers. Even though we pay for their top-tier plan, we were limited to only one file per digital product with 100MB limit. Want to include multiple files? Their suggestion is to zip them up and deliver the zip.
That's probably fine for most ebooks. But since we had lots of videos in our bundle, we were already WAY over the 100MB limit.
Even more importantly, this just isn't a great customer experience. If a customer tried to open our zip file on your phone, they wouldn't be able to access any of the PDF or video files hidden inside the Zip without first unzipping on a computer (or finding an app to do the unzipping).
What we really wanted was for our customers to be able to browse all of the files in their bundle without needing to download a giant zip file.
The more I worked with it, the more I realized that Samcart really is best used as just a cart.
I'm glad I figured this out pretty early, because we were going to need to create just about everything else ourselves for launch: the landing page, the thank you page, and the file delivery emails.
DECISION: How to price the bundle?
Once we realized that we had organized $367 worth of bonuses we felt really good about pricing our top bundle option at $99.
For the other two price options, I had a bit of an experiment in mind:
I wondered if a $5 promotional price for JFS could also serve as a paid lead magnet for anybody who was newer to the Stacking the Bricks ecosystem. I also wondered if someone considering the $5 or $19 options would consider the larger bundles once they were in the cart.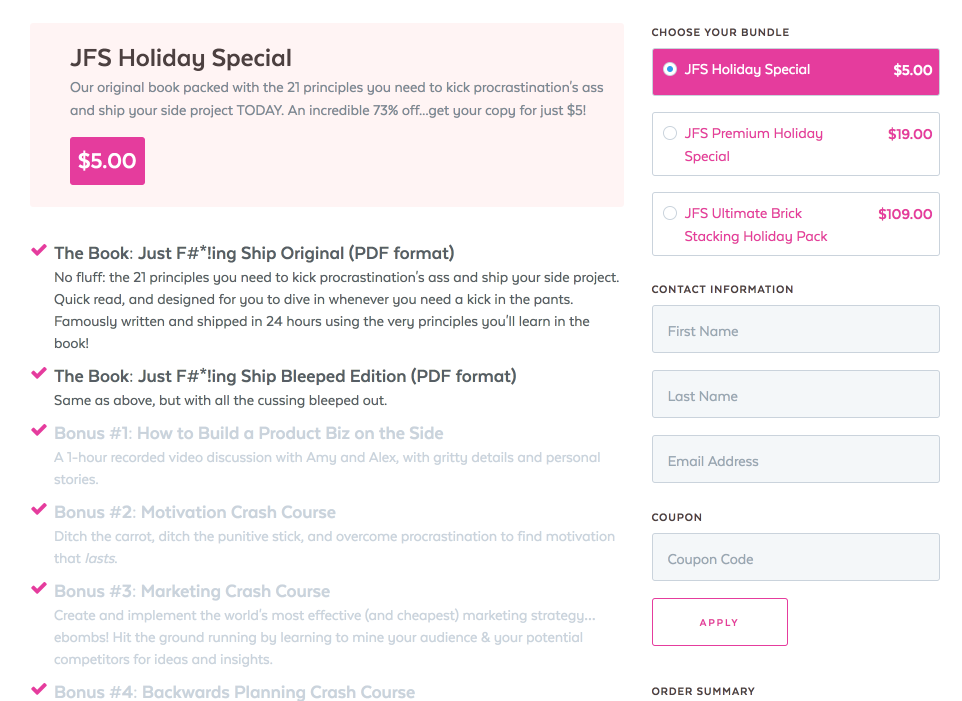 The good news is that Samcart's One Page Funnel (seen above) may have turned more of our $5 and $19 customers into $99 customers.
The bad news is that we don't know if it happened because Samcart doesn't show how many people landed on the cart with one option selected and then switched to another. Whoops. Lesson learned, just not the lesson we were hoping to learn.
DECISION: 24 hours or 3 days?
Somewhere in our conversation I mentioned a 24 hour deadline to buy, and Amy pushed for running the sale across three days.
Since we were already launching on Cyber Monday instead of Black Friday, we were going to miss out on some of the "worldwide-weekend-of-sales" momentum. Within a few minutes we decided that spreading the sale across three days was going to better than 24 hours for building up momentum ourselves.
The only consideration was our timeline: three days did mean we would have to create more emails to send our list over the course of those three days.
But experience has shown us that every time we send an email, we generate more sales.
So we decided to make our sale window from Monday morning until Wednesday at Midnight.
Boom, and boom.
Day 3 - Wednesday November 22nd
2 days down. Thanksgiving is tomorrow. The clock is ticking.
While Amy is editing down the first draft of her sales copy, I'm finishing up work on our checkout process.
From my testing on Monday, I knew that I would need to configure our biggest bundle first and that we wanted the bullet point copy to be as close to final as possible to avoid complicated edits in Samcart.
Amy helped me finalize those bits of copy, and here's what the cart looked link when I was done.
Zoinks that's a lot of stuff!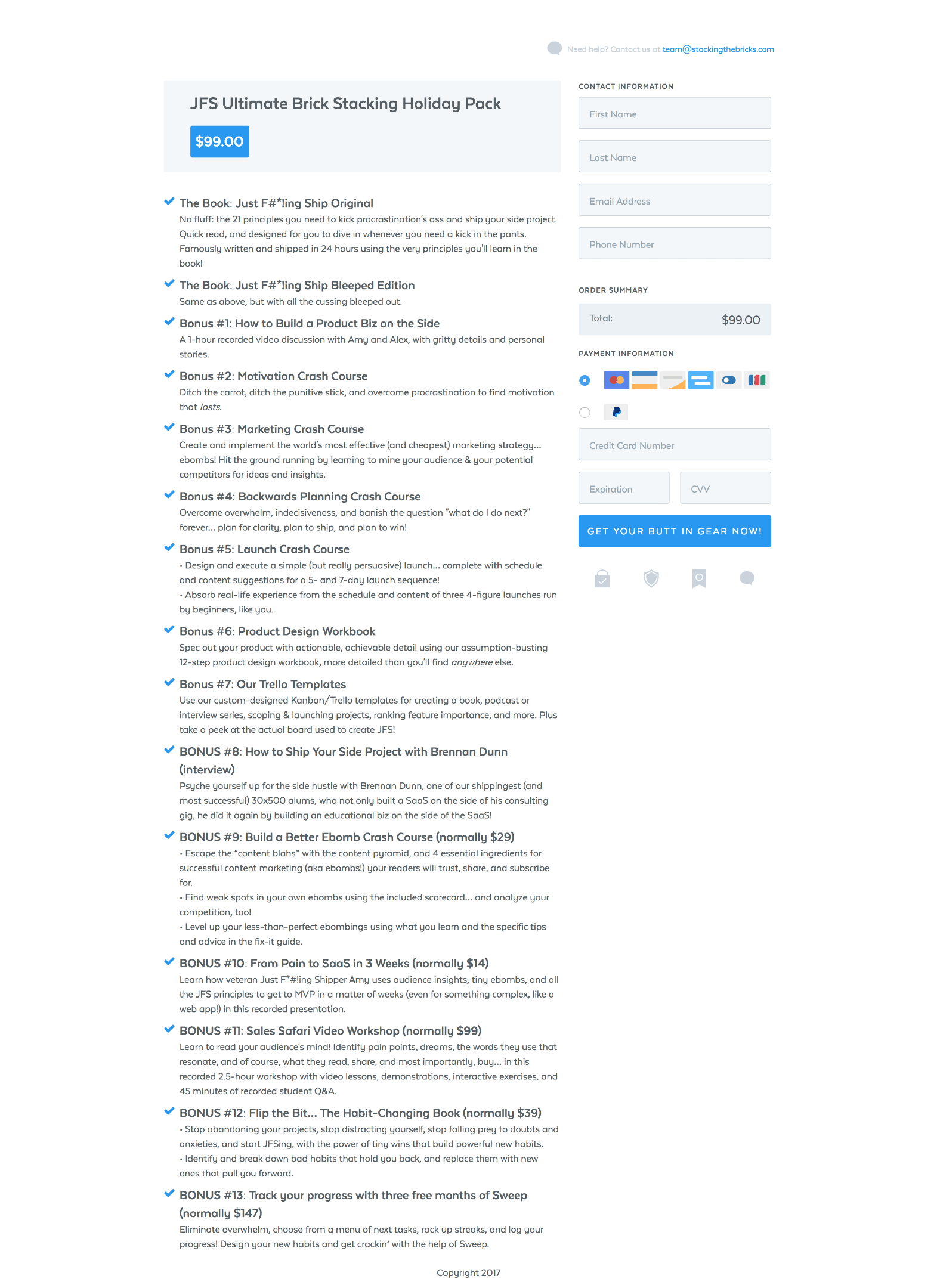 DECISION: How to deliver the files?
So, here's the rub.
Samcart's built in post-purchase emails are…pretty crappy. They're basically just a receipt with a totally non-obvious button that links to a single file.
And I already learned yesterday that Samcart has file size limitations.
So I decided that our best bet was to control the post-purchase workflow ourselves.
My plan was to set up a hidden static webpage for each package, essentially giving our customers a "menu" of their bundle's contents that would link out to each individual file or groups of files.
I also figured out how to use Zapier to tag our customers in Drip when they completed a purchase in Samcart, and decided that it'd be best to set up a custom workflow in Drip to deliver the download links after purchase to give us maximum control. More on that later.
Kai Throws a Curveball
Somewhere around 3:30 on Wednesday, Amy posted this tweet from our friend Kai Davis into Slack:
Yo - if you sell a product for freelancers and are offering a black Friday discount, email me at [email protected] and let me know. I'm putting together a compilation of the deals, discounts, and special offers and sending it to my readers.

— Kai (@kaisdavis) November 22, 2017
Drat. Our sales page wasn't ready. At least a few of our products still needed some love to make them ready for bundle customers. And I hadn't even started building out the post-purchase workflow.
And we were about to Break for Thanksgiving. No way, our bundle wasn't going to be ready to go live on Friday.
The thing is…we know Kai loves Just F#&!ing Ship. I was pretty sure that he'd be legit bummed if we didn't at least let him know that there was a JFS promo around the corner.
Amy and I did a quick pow-wow.
At the very least, I knew that our cart would work in time and Just F#!&ing Ship was ready to go. Kai could be honest with his readers and tell them that we weren't open to the public yet so they were getting exclusive early access.
In an absolute worst case scenario, we could team up and go 100% Flintstone, manually emailing early customers a bunch of links to the files. Worst case scenario was that we had more sales than we could respond to, and that's a very good worst case scenario.
So I shot him an email.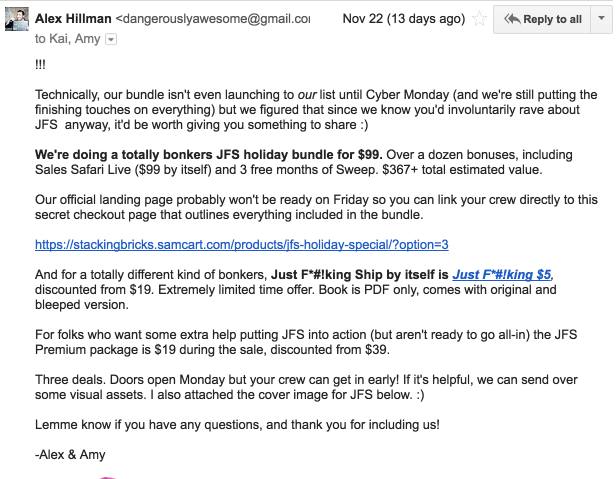 Kai quickly responded, and as expected…

Kai is such a mensch. Thank you, friend!
Day 4 - Thursday November 23rd
Thanksgiving Break. Gobble Gobble.
We didn't do much work this day (as planned), but I did spend a little time setting up the initial post-purchase thank you page. And since I didn't know exactly when Kai was sharing the early access link to our bundle, I set up the basic workflow using Zapier and Drip to fire one of two different emails depending on what Kai's readers bought.
If someone bought just JFS, our workflow would send an email that thanks them and linked directly to download JFS PDFs.

If someone bought one of the packages with bonuses, they'd get the links to JFS right away followed by a friendly note that the rest of the goodies would be delivered on Monday.
Here's how that second email looked: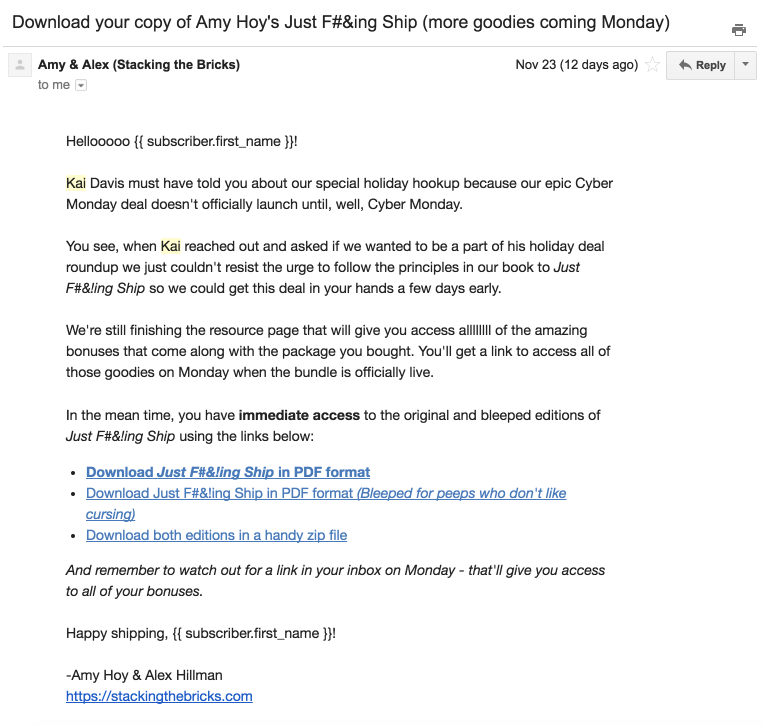 Oh, did I mention that Amy and Thomas came over to my house for Thanksgiving dinner?
Special shout out to my amazing wife Patterson for cooking for us!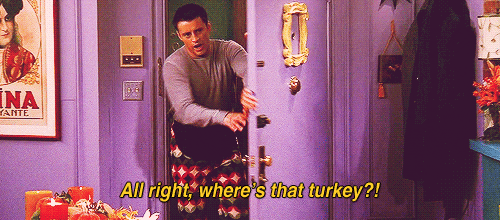 Day 5 - Friday November 24th
It's one day closer to showtime!
I had some projects to tend to around Indy Hall, so I wasn't going to be able to do as much today.
But that didn't slow us down.
Thomas jumped in to help us start building out the sales page based on Amy's design and copy:
He set up a countdown timer and meta tags for social sharing previews.
He gave us a handy design template for organizing and displaying the packages and their contents. This would be super useful later for creating our post purchase "menu" pages.
Huzzah, thanks Thomas!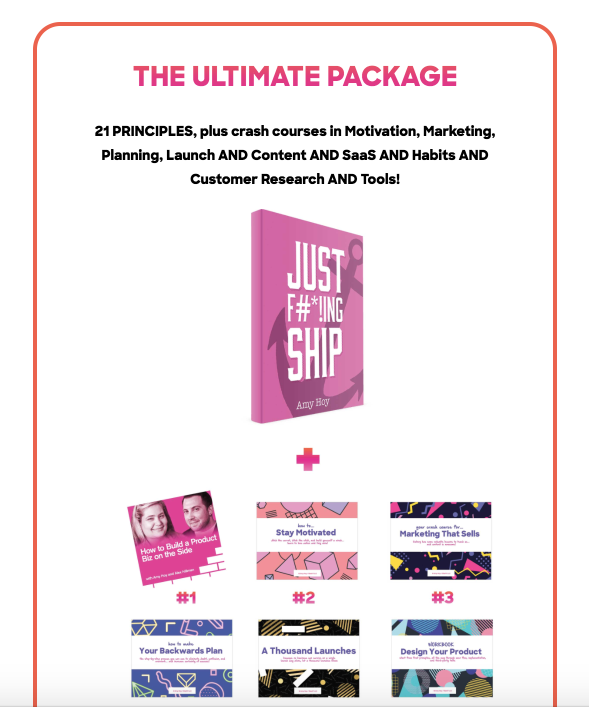 We also needed some nice looking product images for the sales page, and we wanted to give a consistent book cover style treatment to a bunch of our "Crash Course" PDF's.
So Amy switched gears from copywriting to design, and after a few hours, she emerged with the collection of custom book covers for our guides that you can see above.

But wait - that's not all!
Remember how we decided to update that 30x500 mini-course on habit change? Amy came up with a name and book cover.
Meet "Flip the Bit!"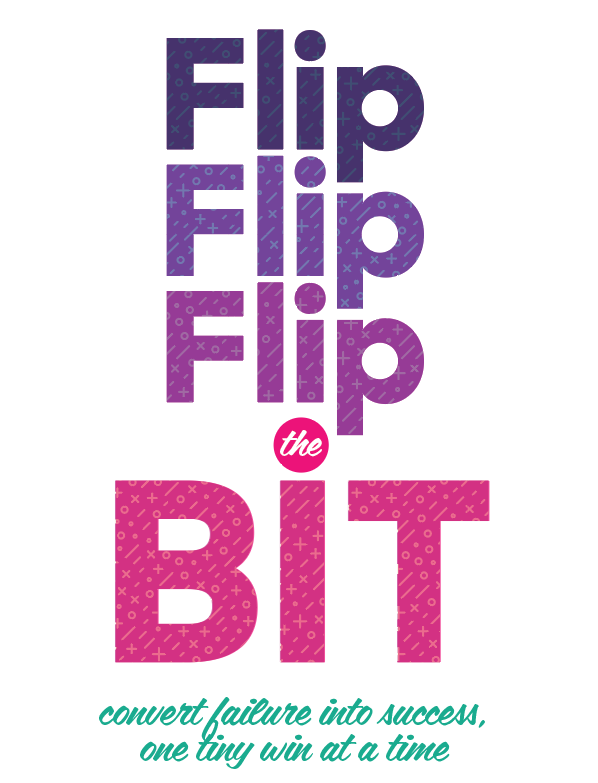 And then, in the middle of Friday afternoon we saw our first sale. Kai's list knew about our bundle!
💸💸💸
Day 5 - Saturday November 25th
I started my day working on our post-purchase thank you page.
When we launched our free course Year of Hustle last year, we added one more surprise bonus on the thank you page that could be unlocked by sharing our bundle deal on Twitter, Facebook, or LinkedIn. This little bit of code has generated hundreds tweets about Year of Hustle, earning us lots of new subscribers.
So we thought…let's see how it works for a paid promotion!
From experience, we'd learned that "impulse" bonuses work best when they're valuable and provide relatively instant gratification.
I started hunting through our archives for a cheat sheet or brief video (~20 mins) and found one of Amy's talks titled "How to write so people give a damn."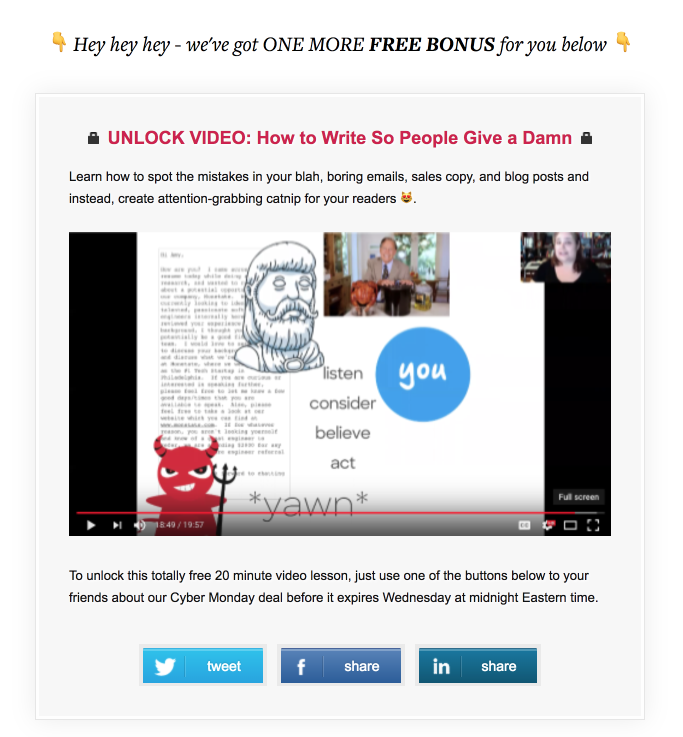 Boom, and boom.
Flip the Bit goes into production
For most of our week so far, Amy and I had been focused more on the "meta-work" of shipping the bundle and less on the products inside the bundle itself.
Which was by design! We intentionally chose from our stable of products that were feature complete and had helped hundreds of people already.
Amy didn't need to design new covers for a bunch of the guides, but we had already agreed it was a good idea to spruce them up a bit. And the worst case scenario was still shipping, even if a few covers weren't finished. We could ship updated copies later.
But there was one product that needed way more love, and that was Flip the Bit.
If you remember back to Monday, I mentioned that we already had most of the raw materials for this mini course on hand from when we'd taught it live for 30x500 students.
But the work of turning the raw materials into a real product wasn't going to be as simple as giving it a nice looking cover. Amy and I have bigger, more exciting plans to expand Flip the Bit into a full-blown book about building good habits for business.
But the clock was ticking, and we knew from experience that this raw material was already more than enough to really make a difference for a lot of people.
So Amy started by organizing the notes and examples and exercises that we had. Then, she expanded the lessons while building out more self-guided approach than we'd had used in the live 30x500 classes.
My favorite part - this new edition of Flip the Bit even includes examples from past students to help you avoid common pitfalls in these self-analysis and habit change exercises.
Mind you, if we had never run the live version, we wouldn't know what the self-guided version needed in order to be effective. That's pure brick stacking baby!
Setting up our file delivery systems
I had one critical item to complete before the end of Saturday in order to keep us on track for our launch timeline:
Pages our customers could use to access the files in their bundles.
Thanks to the way Thomas built our sales page (just clean HTML/CSS/Javascript with nothing fancy), I could finish this pretty quickly! The most tedious part was making sure all of the links were tested and worked correctly.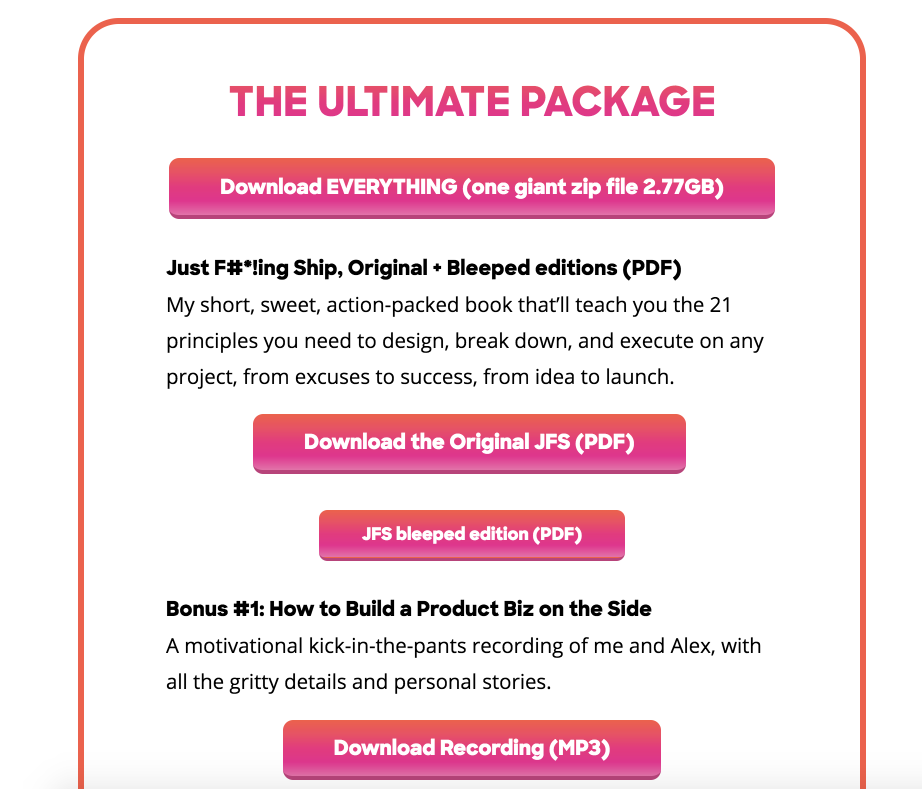 Speaking of the files…we needed somewhere for them to live.
Warning, Tech-Speke Ahead
You see, earlier this year we switched Stacking the Bricks to an entirely static site that we deploy auto-magically with Nanoc, and Github, and a service called Netlify. This switch been great for MANY reasons, but the one thing we have to be careful about is putting large files and resources into our git repo. It slows down nanoc compiles locally, and even moreso when we deploy.
The easiest solution was an S3 bucket, which I already knew how to use with something like Transmit on my Mac. Thomas got us set up with a bucket for Stacking the Bricks stuff, and I was able to start copying our files up to S3 and set permissions correctly.
Note: If you don't know what Nanoc, Github, Netlify, or S3 are…don't worry. Do you have access to some kind of FTP host for your website? Put your files there!
Day 6 - Sunday November 26th
Let's take a quick inventory. We just have two things left to do before our bundle can launch tomorrow:
Finish up Flip the Bit
Update our post-purchase email workflow to send the correct links and messaging depending on which bundle somebody purchases.
Amy has the lead on finishing the design and updating the content for Flip the Bit. I contributed some minor updates to the instructions of our battle-tested exercises, while Amy worked her design wizardry in Pages to create the workbooks and support lessons in Pages.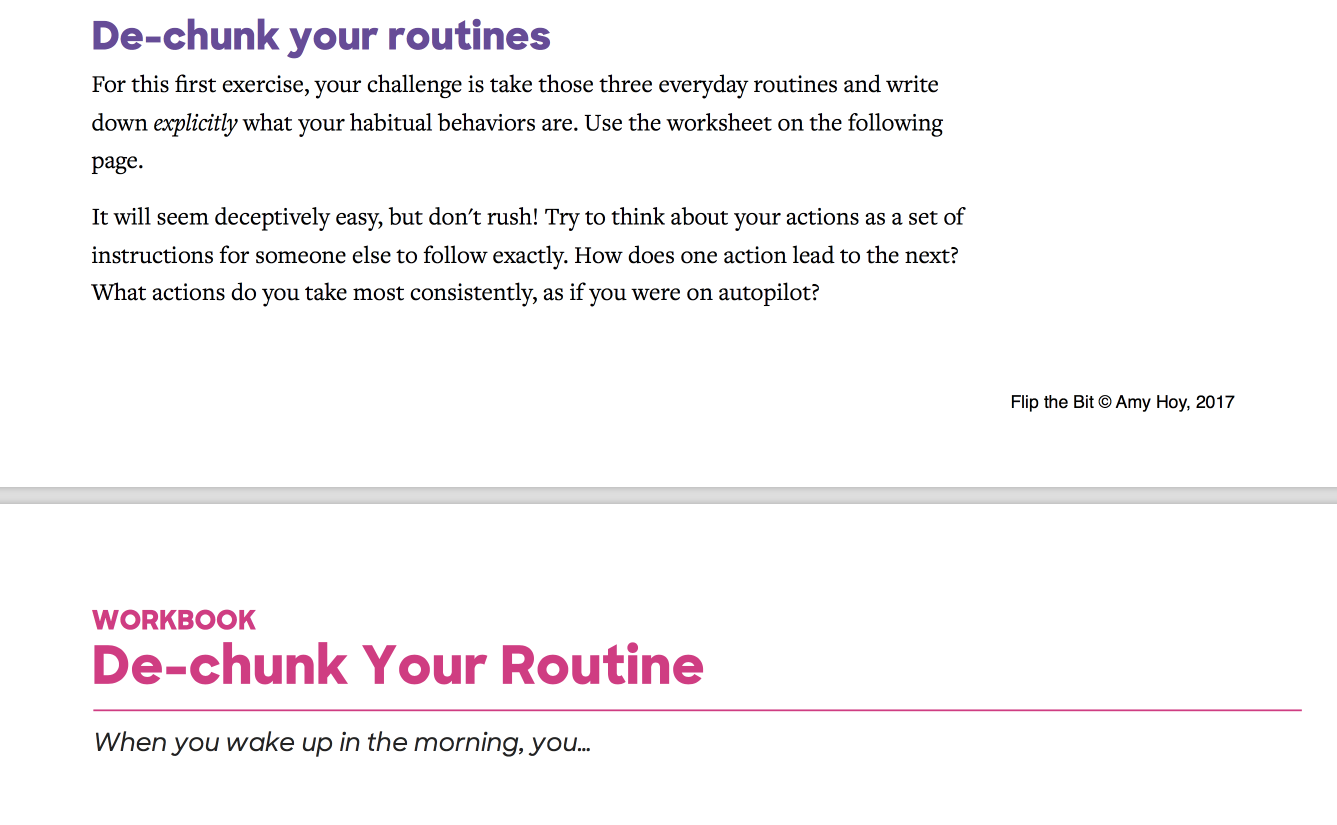 Around 9pm on Sunday, Amy declared Flip the Bit version 1 complete!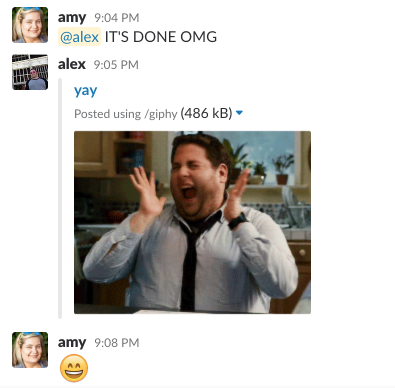 Meanwhile, I was finishing our post-purchase automations in Drip.
Drip Workflows (full disclosure, that's a referral link) are all the rage right now (in no small part due to our alum Brennan Dunn's work with high-value personalization).
If this is the first time you're hearing about Drip's Workflows, you can think of them like visual "decision trees" that help you can send different emails to different people based on events and metadata that tell the workflow what they've done, or not done.
We're still barely scratching the surface of how we can use Drip Workflows - more on that in 2018. But they sure came in handy for delivering bundles to our customers!
I first configured Zapier to run a "Zap" every time someone made a purchase in Samcart. In this case, the Zap created a different tag based on the name of the bundle option our customer had purchased.
If a subscriber already exists in Drip, they get the appropriate "Bought - %productname%" tag.

If they're not already a subscriber, they're added to Drip and tagged all in one automatic move.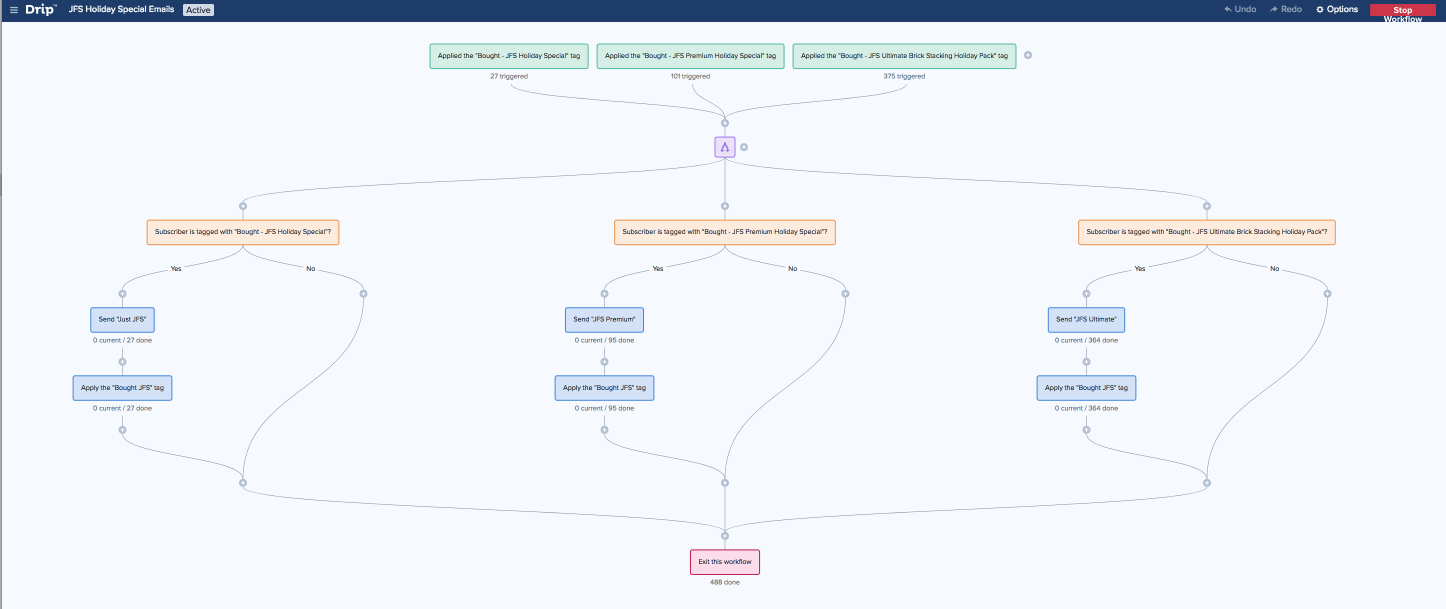 This Drip workflow above works about as simply as they come: after being triggered by one of the three purchase tags being added to a subscriber, it would filter on those tags to deliver the correct email for the bundle they purchased.
If you look closely, you might also notice that each workflow adds the "Bought JFS" tag to a subscriber after sending the appropraite delivery email.
We can use this tag for segmenting interests, intent, and future promotions down the road but it also serves a functional purpose! When it's applied, this tag triggers another separate workflow that sends a post-purchase feedback emails that help us learn what parts of JFS are most resonant with readers, and how people put the lessons into action.
Just because this is a promo doesn't mean we don't want that sweet, sweet reader insight!
Keep in mind: this setup does have some brittleness to it, because changing the product name will also change the tag that is applied and break any workflows that depend on the tag.

This approach also means that if an existing subscriber uses a different email address when they complete their purchase, or a promotion-unique email (like how [email protected] will automagically forward to [email protected] thanks to Gmail) they will end up having two entries in our mailing database.

This isn't the end of the world, just something for us to be aware of for future sending.
The Final Countdown!
We had almost everything we needed for a successful launch on Monday morning:
a landing page with our Cyber Monday offer
a configured and tested cart - we even have had a dozen or so sales thanks to Kai giving his readers early access to our cart
all of the post-checkout pieces including our "viral" thank you page, automatic product delivery emails, and product download pages.
our products are updated, tested, and ready for our bundle customers to enjoy!
All that's left is the most fun part of all: telling people!
Amy and I agreed to keep our first email short and sweet…and on-brand.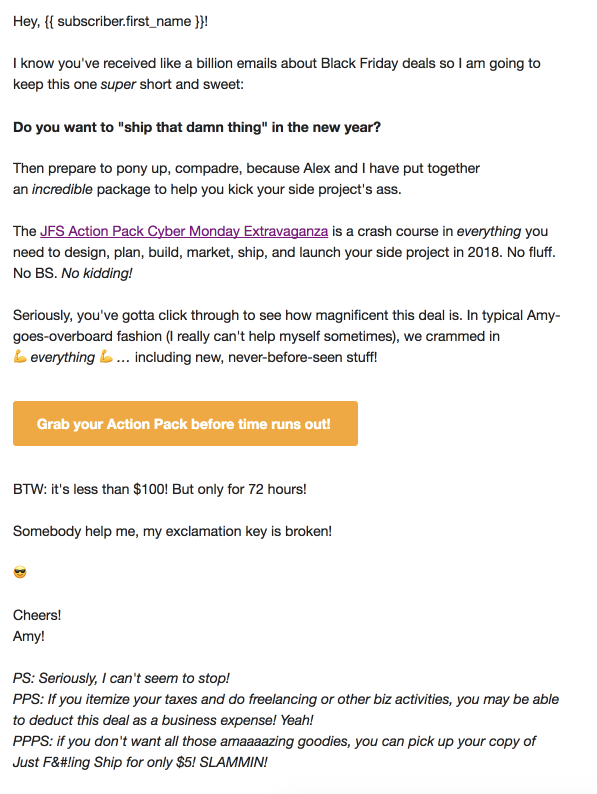 But we had one more hurdle to clear: segmenting.
If we sent this email to our entire list, we could expect to have some pretty ticked off subscribers.
Nearly 4000 (!!!) people have already purchased JFS. We knew that many of them would be interested in our bundle promo, but less so if they had to pay twice for JFS.
We've sold over 300 seats of our Sales Safari Live workshop for $99. If I were one of those people, I'd be annoyed that I already "owned" one of the "bonuses."
So I did a little work pulling sales data and making sure that our subscribers were tagged as correctly as reasonably possible before setting up three new segments in Drip:
A special segment of just JFS customers, which we would offer a $10 discount off the bundle.
Another segment of just Sales Safari Live customers, which we would offer a $30 discount off the bundle.

One final segment that excluded both of those segments.

One final and very important segmenting step: I also made sure to exclude the tags for anybody who bought any version of the Cyber Monday bundle from these segments, so we wouldn't keep promoting the bundle to them.
I set up coupon codes in Samcart for each of these special JFS and Sales Safari Live segments, and scheduled variants of our email for Monday morning.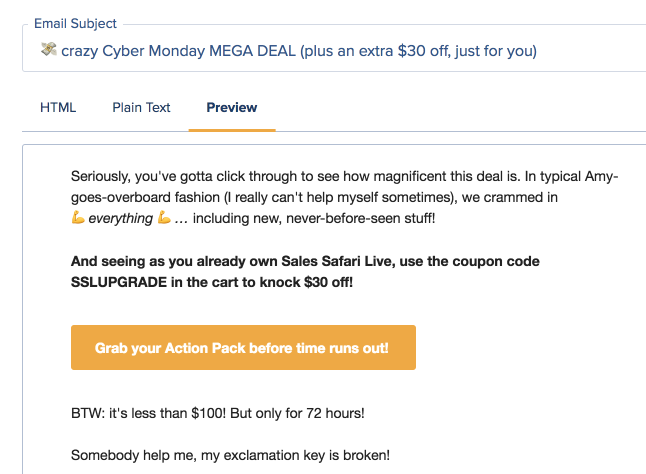 With our 8am emails scheduled, it was time to go to bed!
Day 7 - Monday November 27th. Launch day!
Within the first hour after our initial email was sent, we had made our first 20 sales. Woohoo!
And I'll tell you what, there's nothing quite like waking up to sales. Even the $5 and $19 purchases are a thrill.
We also had a handful of support emails with questions that we likely to keep getting, so we turned those around and improved our FAQ at the bottom of our sales page.
The rest of the morning, sales ticked in. By noon, we passed 50 sales. 📈
But one thing wasn't happening…
Thomas noticed that we had very little sharing on Twitter. Hmmmm…..
That's when I realized that I had broken a bit of javascript on our viral sharing thank you page. 50+ missed opportunities for happy customers to share the promo. Shit!
Luckily it was a quick fix. Within minutes of pushing the update we started seeing the promo spread on Twitter.
Bundle sales continued to accelerate as the hours passed, especially once our west coast subscribers started waking up and checking their email.
We passed $10k in sales just after 6pm on day 1.
Here are the detailed campaign stats of our day one launch email:
Sent to 14,239 total subscribers (This included some overlap cuz I fucked up drip segments the first time we sent)
4454 opens across all three segments - 31.2% open rate
2939 opens from non-customers, 26%
1332 opens from JFS customers, 50.3%
183 opens from SSL customers, 62.9%
1255 clicks across all three versions - 8.8% click rate
765 clicks from non-customers, 6.8%
1332 clicks from JFS customers, 34.4%
183 clicks from SSL customers, 14.7%
124 unsubscribes (0.8%)
This set of email campaigns drove 1395 unique visitors to our promo's landing page.
332 of those visitors clicked through to the cart, giving us a ~23.7% sales page to cart conversion rate.
153 total bundles were sold (all versions), giving us a ~10.9% sales page to purchase conversion. Day one sales total: $10,835.
At the end of Day 1, Amy and I used our Heavy Metal Launch Curve to estimate the sales potential for this bundle.
If day three was about as good as day one, we could easily pass $22,000 total sales even if Tuesday was a total flop and conservatively, $25k+ was an easy goal to beat for all three days of the sale.
Day 8 - Tuesday November 28th
We were pretty close to $15k in total sales by 10am, and started seeing more emails from customers saying things like, "I'd managed to avoid sales all weekend, but couldn't resist your bundle. Thank you!"
This is the only Cyber Monday deal I actually bought. These guys are the real McCoy and this is a superb offer. Thank you @amyhoy and @alexhillman! https://t.co/dRa41yZxQr

— Groweb DigiMarketing (@GrowebDigital) November 28, 2017
We felt really good about day one.
So I hunkered down to work on a second email
Amy and I agreed to that our second email could be a bit longer, and tell a story.
We decided that that I could write about how teaching 30x500 taught us that success is less about skills and abilities than we thought and how instead, we've seen thousands of people succeed or fail based on their habits alone.
This narrative and example tied nicely into the two newest products in our bundle: Flip the Bit and Sweep, and provided a natural way to introduce our newest products to our subscribers.
So I set the goal of keeping it short and sweet so we could send it by the early afternoon.
Unfortunately….I got carried away with digging into our history of learning how to teach habits. My initial outline became scattered and bloated, and was tough to weave into a real narrative. I had to do a lot of cutting and reorganizing to make it work.
By the time the email was complete, it was almost 5pm. I was tired. It was late in the day. The email wasn't perfect (including a bunch of embarrassing typos, whoops).
It was still mid-afternoon for our west coast subscribers. And for everybody who had already signed off for the day, we'd be in their inboxes whenever they woke up on Wednesday morning.
So I anxiously hit send a few minutes after 5pm.
---
Here are the campaign stats for Day 2's email, warts and all:
Sent to 13,767 subscribers
3,965 opens across all three segments - 28.8% open rate
2,757 opens from non-customers, 24.7%
1,060 opens from JFS customers, 45.4%
148 opens from SSL customers, 56.3%
342 clicks across all three versions - 2.4% click rate
173 clicks from non-customers, 1.5%
137 clicks from JFS customers, 5.9%
32 clicks from SSL customers, 12.2%
122 unsubscribes (0.88%)
This set of email campaigns drove 491 unique visitors to our promo's landing page. This is quite a dip from day one's ~1300 visitors, but remember that our first email was short and sweet….and around only around 10% of those visitors ended up buying.
181 of those visitors clicked through to the cart, giving us a ~36.8% sales page to cart conversion rate. So while we had less unique visitors hit the landing page, almost 50% more of them got to the cart.
And 97 total bundles were sold (all version), giving us a 19.75% sales page to purchase conversion. So again, less unique visitors than Monday but nearly double the conversion rate to completed purchases.
Day two sales total: $7,321
Time to get some sleep.
Day 9 - Wednesday November 29th
I'll admit that I was feeling a little bit down about how late in the day I sent Tuesday's email, but it had payed off:

And today was our final day of the sale.
That meant it was going to be a multi-email day, and Amy already had plans for the first email.
She chose to write another narrative email rather than a pure promotional email, this time about the excuses we make for not shipping. About the excuses she had made for not shipping. And what changed when she took on a 24 hour challenge and shipped the first version of JFS.
That email shipped to all three segments at 2:30pm.
---
You can read our 3rd email here, and check out the campaign stats below:
Sent to 13,662 subscribers
3,498 opens across all three segments - 25.6% open rate
2,548 opens from non-customers, 22.8%
827 opens from JFS customers, 37.1%
123 opens from SSL customers, 47.9%
234 clicks across all three versions - 1.7% click rate
163 clicks from non-customers, 1.5%
58 clicks from JFS customers, 2.6%
13 clicks from SSL customers, 5.1%
72 unsubscribes (0.52%)
---
Sidenote: we didn't do any fancy campaign tracking in our cart, so we don't have the data to attribute sales to individual emails. Whoops. We will do that next time. For now, I'll be sharing our day 3 & total sales stats separately from the day 3 email stats.
Also around 2:30pm, we passed $23k in bundle sales. 90 minutes later we passed our $25k goal.
Sales were really starting to accelerate at this point - often over $1000 in new sales every hour.
Up next: I worked on our fourth email & set it to go out at 6pm.
This was the first of our emails to highlight the entire bundle's contents. It also reminded people that there was only 6 hours left before our bundle turned into a pumpkin.
---
You can read this entire 4th email here, and don't miss the campaign stats:
Sent to 13,480 subscribers
2,578 opens across all three segments - 19.1% open rate
1,734 opens from non-customers, 15.7%
733 opens from JFS customers, 33.5%
111 opens from SSL customers, 44%
186 clicks across all three versions - 1.4% click rate
105 clicks from non-customers, 1%
60 clicks from JFS customers, 2.7%
21 clicks from SSL customers, 8.3%
63 unsubscribes (0.46%)
Unsurprisingly, open and click rate are lower each time we send an email. Perhaps more surprisingly, our unsubscribe rates seem to be getting lower with each email.
A quick aside about unsubscribes
It's easy to read into unsubscribes as a negative signal. In general, we don't worry too much about unsubscribes unless they're unusually high compared to previous sends.
If you get anxious about unsubscribes, just remember: Unless lots of your subscribers start to send you nasty emails, don't assume that they're pissed.
The only thing that an unsubscribe definitely means is that somebody doesn't want to get those emails anymore. Don't take it personally, and don't let it scare you from sending emails.
In our case, sales are still accelerating (and we haven't gotten a single nasty-gram) which means the reminders are working for the people who are opening and clicking!
Back to the timeline
Around 9:30pm I checked and saw that our day 3 sales was about to pass day 1 sales.
The Heavy Metal Launch Curve strikes again!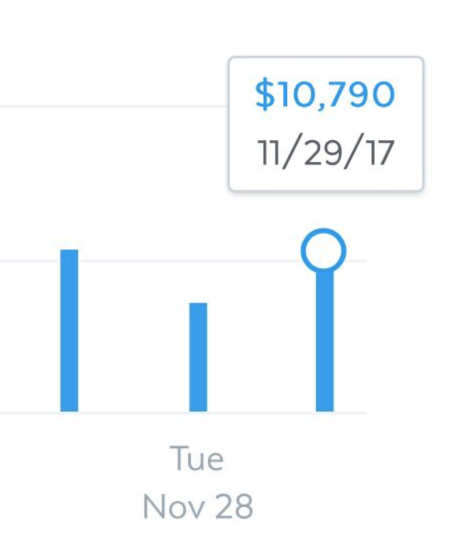 Total sales had just passed $30k, besting our goal by $5,000. And we still had 2.5 hours and another email to go!
We did the math and realized that we only needed 56 more sales at our average per-unit price to break $35k. Would we make it?
I set up one more email to go out at 10:30pm.
Every time we've run a launch, people will email us after the launch ends begging for an extension. It doesn't matter that we've spent most of our waking minutes over the last week thinking about this bundle…they haven't.
It's soooooo easy to be interested in an offer, open the link in a tab, go to get your wallet, get distracted, and forget about where you started.
This email wasn't focused on the value of the bundle, but instead on catching those people who had gotten distracted between opening our previous emails and checking out.
Rather than send our "last call" email to everybody, I wanted to create segments that would only go to people who had opened the meatiest three emails during our sale.
Here's how our general "last call" segment looked (I did the same thing for our two different discount segments, too):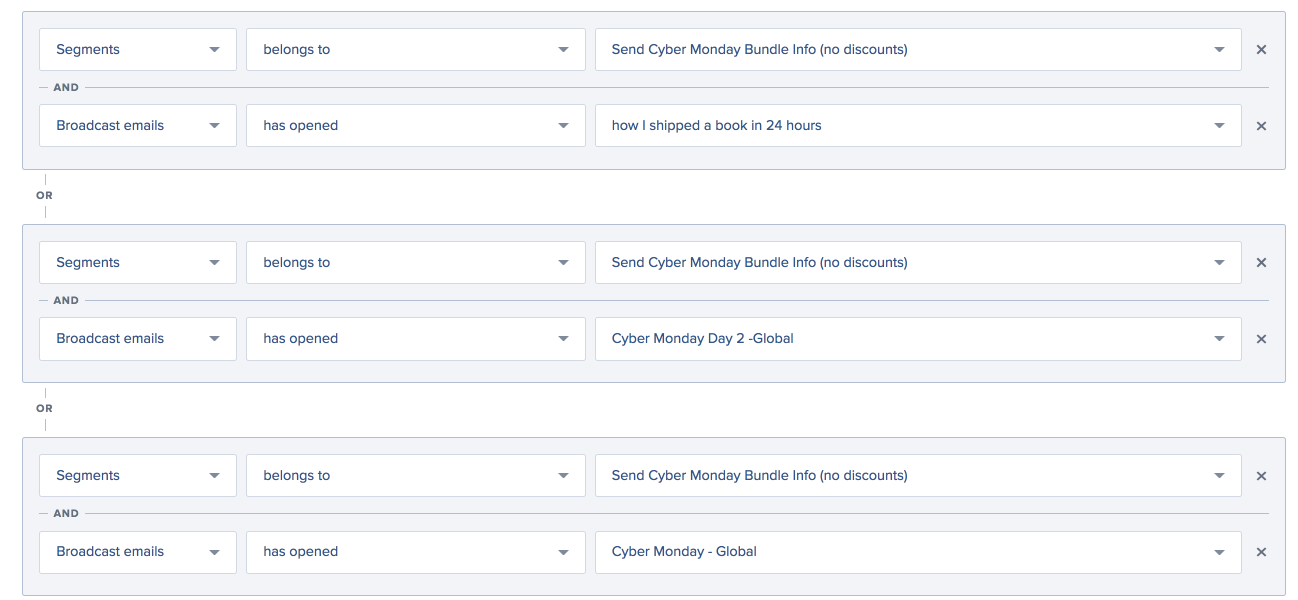 ---
Here's that final email, along with the campaign stats
Sent to 5,446 subscribers (Only sent to people who had opened one of the previous three emails)
2,578 opens across all three segments - 19.1% open rate
1,056 opens from non-customers, 37.7%
587 opens from JFS customers, 46.2%
88 opens from SSL customers, 50.6%
186 clicks across all three versions - 1.4% click rate
92 clicks from non-customers, 2.3%
46 clicks from JFS customers, 3.6%
6 clicks from SSL customers, 3.4%
53 unsubscribes (0.97%)
THE HOME STRETCH
For the final 90 minutes of our promo, Amy and I basically sat in Slack and shouted numbers at each other.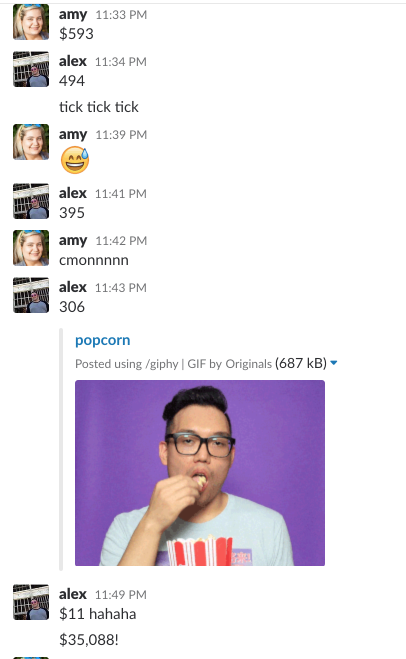 At one point, our sales notifications were coming in faster than I could clear them out of our inbox.
FINALLY. Midnight. Bundle. Over.
Are you chomping for our day three sales stats?
Here's how everything tallied up:
Three emails drove 703 unique visitors to our promo's landing page on day three. That's a 50% increase from day two!
356 of those visitors clicked through to the cart, giving us a ~50.6% sales page to cart conversion rate. Again, that's a nearly 50% increase from the day before.
And a record 218 total bundles were sold on that final day (all version), giving us a 31% sales page to purchase conversion. That's more than triple the conversion rate of day one.
Day three sales total: $16,186
LET'S PUT IT ALL TOGETHER
We started with a list of 14,239 subscribers. A little more than 20% of that list had bought something from us before.
Over the three day promo period, we sent 2,589 total unique visitors to the promotion's landing page.
869 of those unique visitors made it to the cart, giving us a 33.5% sales page to cart conversion for the total promo.
468 units were sold during the three days, giving us an 18% sales page to purchase conversion for the full three days.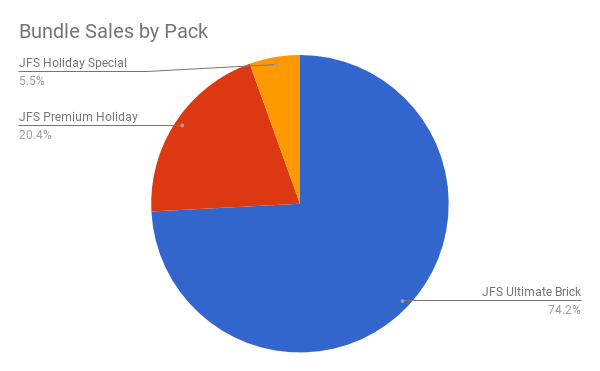 ~25% of those customers came from outside of our email list.
With $34,342 total unit sales, three emails raised our list value by an average of $2.41 per subscriber.
Those numbers don't include another $1,259 in "pre-sales" sent from our good friend Kai Davis (thanks Kai!) and another $1,469 in stragglers and "loose link" purchases made after the official closing.
In total, our final sales just passed $37,000 before expenses. That's almost 50% more than our original $25k projection!
And by the end, 381 people had unsubscribed during the promo - that's 2.67% of our total list. It's a bit higher than we'd want during our usual newsletter promos, but it's not at all worrysome during a promo where we're sending multiple emails in a single day.
There's one more set of numbers I wanted to analyze…
Social sharing - is it worth it?
I already mentioned that we didn't do a very good job of tracking sale attribution. But I did want to try to get a sense of how our thank you page with social sharing incentives worked.
According to Buzzsumo, here's what we saw:
Approx 111 shares on Twitter (not including private accounts)
55 Facebook shares
13 Linkedin shares
Total Shares: 179
So Twitter was the bulk of the sharing. Not exactly surprising for us, since Amy and I both have sizable Twitter followings.
What is a little more surprising is how LITTLE traffic came from social channels:
Twitter: 302 New Visitors
Facebook: 7 New Visitors
Linkedin: 0 New visitors
Ouch.
Barely 12% of our traffic came from Twitter. Facebook barely registered. Linkedin, nice try.
Now, the trouble with analytics is blind spots.
We don't know if those 302 new visitors from Twitter turned into customers. Maybe they did? We did a bad job of tracking it.
Even more befuddling, we saw non-trivial amounts of traffic marked in Google Analytics as "direct" but didn't correlate to clicks from our emails.
That traffic also didn't come from social, so the question is…where did it come from?
Some of that is going to be old-fashioned email forwards. Yup. That still happens.
But our other best guess - and this is absolutely a guess - is that private Slack communities (and things like it) are common sources of closed-community sharing. When our subscribers shared the promo, our hypothesis is that some of that sharing translated into new Slack communities hearing about our bundle. But since Slack scrubs referral details to hide its' private community URLs, those visits would show up as direct and unattributed.
Does that explain all of the "unknown" traffic? Not quite. So in the future, we're going to do a better job trying to determine some of these hidden traffic sources.
Takeaway: social sharing is valuable for a bunch of things including social proof and community participation, both of which play a role in earning trust, which in turn helps make sales. But unless you're GaryVee selling sneakers, social media still isn't the best channel for direct sales.
So, what did we learn?
In no particular order:
We need more products in the $99-249 price range.
We've known this for a while. There's a HUGE gap between $19 and $39 for Just F#&!ing Ship, and 30x500 at $1999+.
JFS is very a strong anchor to tie a lot of our product universe together.
I think we surprised ourselves with how many products we could bundle together towards a cohesive set of goals. Our product ladder isn't perfectly linear, but I think this bundle helped us see some gaps to make it more cohesive.
Don't forget to take care of your prior customers.
The coupon code we sent to our previous JFS customers was redeemed over 100 times. The code we sent our Sales Safari Live customers was redeemed 41 times. That means 28.2% of our total customers - and over $10k in sales - came from previous customers. Happy customers WANT to buy your new stuff. Make it easy and fair for them to get it.
Paypal…still matters. 🤕
38% of our purchases came through Paypal. That's more than I expected. Supporting Paypal has it's risks. Know them. I was careful to clear our Paypal account every day, just in case they decided to freeze it. As nervous as we always are to use it, there are lots of people who treat their Paypal money as "fun money" for promotions and deals. There are even more people who don't have access to credit cards.
All digital cart software is frustrating.
Shitty graphs are everywhere. Every tool we've looked at has tradeoffs. Samcart does some really cool advanced stuff like upsell funnels that we didn't have time to try on this bundle….but it lacks other seemingly basic things like partial refunds and a way to pass coupon codes directly to the cart from the URL. Argh!
Social sharing doesn't drive sales, at least not directly.
Okay, it wasn't exactly a "new" lesson that social sharing has a much lower conversion rate when the path to conversion is paid instead of free. Frankly, I was surprised that 35% of our customers shared after buying - that's higher than I'd expect, I think it's even higher than when we used the same social sharing "viral loop" when we launched Year of Hustle. And that was our most successful list-growing effort to date.
Most of all, it's so freaking empowering to have a stable of products.
We put quite a bit of work into launching this bundle in less than a week, but as you noticed almost all of that work went into the "meta-work" around launching. The only product we had to "create" was Flip the Bit, and that was based on prior assets (and something we planned to do anyway).
All of the other products were already on the shelf, or needed a little love.
thanks! the secret is, we had already created pretty much everything in it. but it's still excellent stuff that few people already had!

— Amy Hoy ✨ (@amyhoy) November 30, 2017
And now, those things are the hands of over 500 new customers.
That's why shipping - and stacking the bricks - totally rules.
How do you make your first sale?
Follow our FREE roadmap from $0 to $10k and start your product business one small, achievable win at a time.
When you subscribe, you'll also get biz advice, design rants, and stories from the trenches once a week (or so). We respect your email privacy.