Hello there! Just tuning in? I wrote the first version of a book in 24 hours, shipped it, and made $7,248 in sales so far in under 2 weeks. To catch up, read my recent 1-week later update.
Just Fucking Ship, my 24-hour book, is getting verrrry close to its final version.
OMG my life is editing. Editing editing editing editing. Looks like this: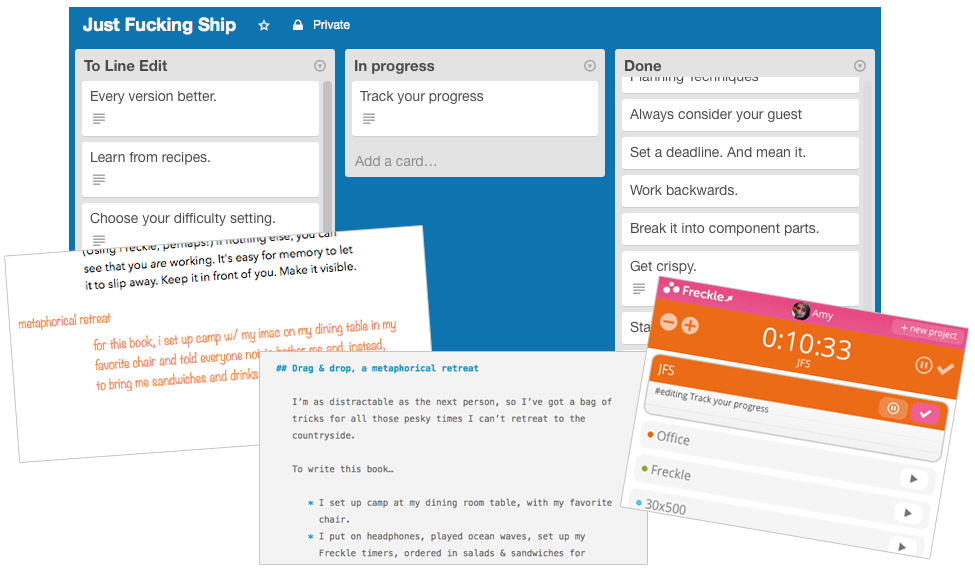 I've logged 7.5 hours editing this week so far — that doesn't sound like a lot, but believe you me, structural editing is harder than writing the initial draft. All the hardest chapters to edit, bar one, are behind me now, so should be smooth sailing from here on out.
The Atom chapter was still giving me trouble, but luckily Alex just (like 20 minutes ago) gave me some great outside perspective. He knows what I'm trying to say even if I can't figure out how to say it.
Get your copy for just $19. You'll get the updates, the edits, the new graphs, the additions to the "how we did it" story as they happen!

JFS, my friend!
What are people saying about the first version?
…before I put in all this hard work making it shiny? Well, the best thing they're saying is what they're doing with it:
First of all, holy shit did this hit spot on with about a million things I have been feeling… for a long time. It's so easy to get in this crazy downward mental spiral that freezes you into lack of action. It sucks.

Having someone tell you that it's OK and all of these things are made up in your head takes so much pressure off. It's like I had been putting all of this on myself unnecessarily all along. You really need to hear it from someone else.

I just finished reading the book about an hour ago and I've already written up an outline for a free offering I can use when people give me their email address and I am working on a new blog post. I've definitely felt a mental shift.
And…
The A-HA moment for me was the Thanksgiving backwards plan where you detail the hours and the little tasks in order. Lately, I've been experimenting working backwards, but didn't really have a true approach to it. I kinda felt this was the way to go, but still felt like my wheels kept spinning.

My mindset has shifted once again for good and I'm getting more shit done in 2 days than last week. Thanks a ton!
And…
JFS has been an awesome kick in the pants for me. I've never had the right amount of savings at the right time for 30x500, but $12 I can spring free from a monthly budget, and this has been so helpful.

The biggest lesson I've taken so far (you know… 2 days so far) is to "shop the shelf". I've been working on setattr.com for a couple months now, and aside from creating the freebie lesson I send out at the bottom of the page I've been focused on mostly building a subscription site. Yeah, that chapter made me facepalm hard. Since I read the book I've restructured my product into bundles of lessons I can sell a la carte (I'm calling them "seasons"), set up my gumroad account, and my new shiny launch plan tells me that next week I can start taking pre-orders.

Because of the motivation to get off my butt it gave me, I've already recommended JFS to a couple of people who I know are in similar sloughs of despond.
That's just a handful of what we're hearing. And it's awesome.
Get your copy for just $19. You'll get the updates, the edits, the new graphs, the additions to the "how we did it" story as they happen!

Sales updates
At 1:30 today (Friday)…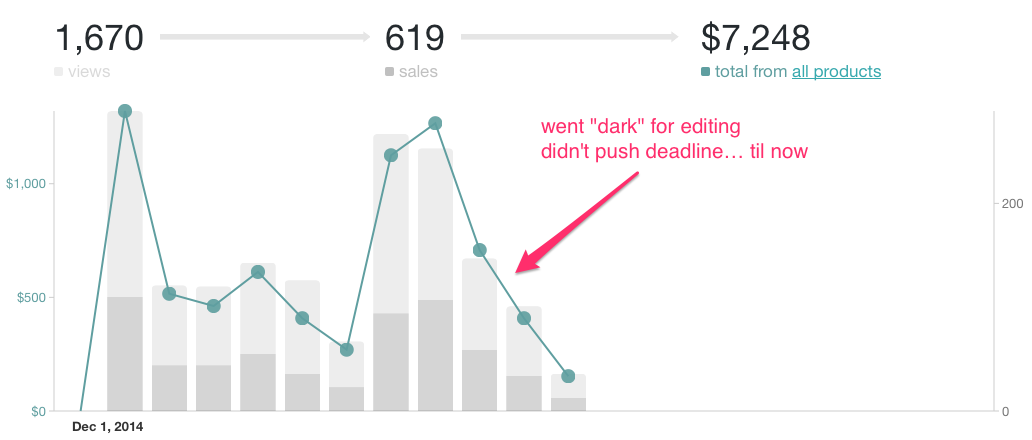 Sales have trailed off because we haven't done anything to boost 'em since earlier in the week — natural and expected. Right now our first priority is to get the (fairly) final book out. Then we'll start all the automated marketing tooling I wrote about earlier.
At 3:45 today (Friday) after announcing the 5pm price bump…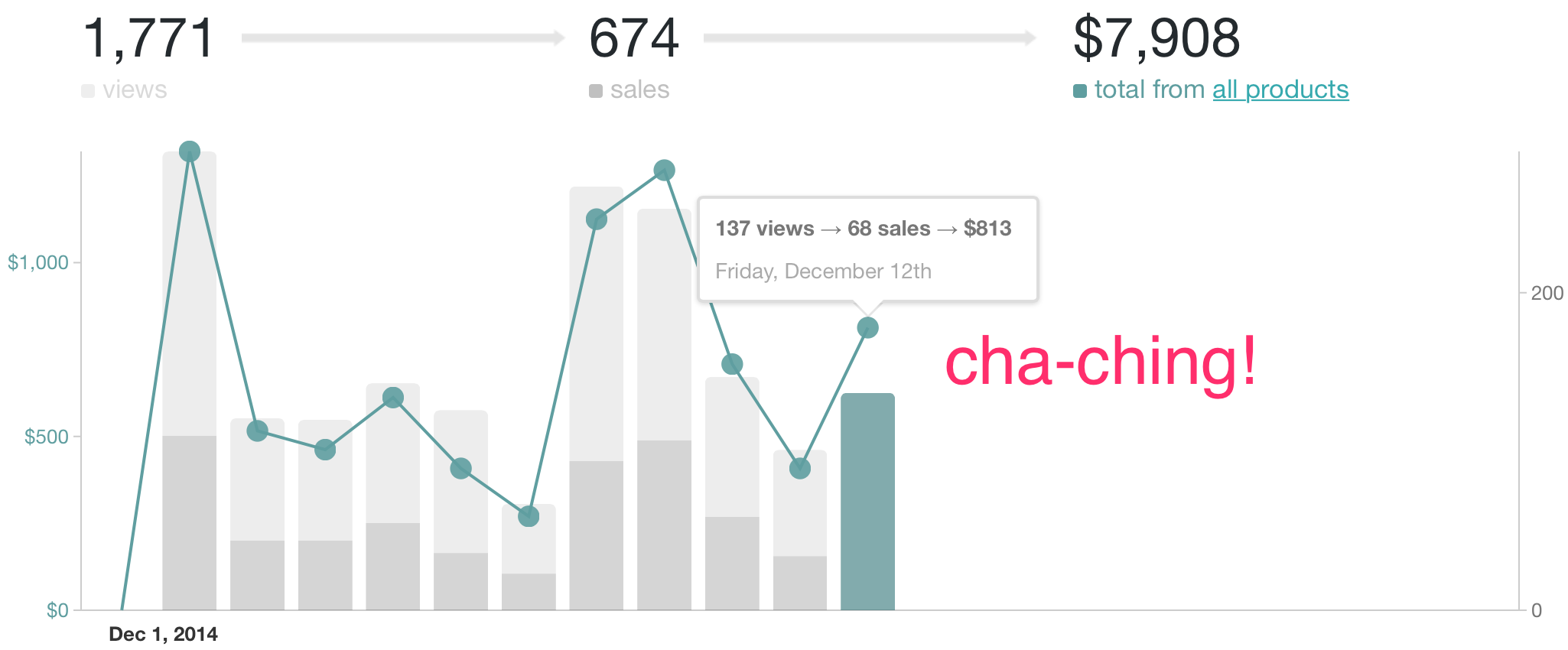 And two more sales rolled in while I was marking up this graph. Oh wait, 3 more.
The initial launch of this book is just the beginning. Wait til you see what we have in store!
At 4:25 today (Friday), 35 minutes before the 5pm price bump… we beat our pretty decent launch day sales! Because the famous Big Launch™ is just one way to make a lot of sales.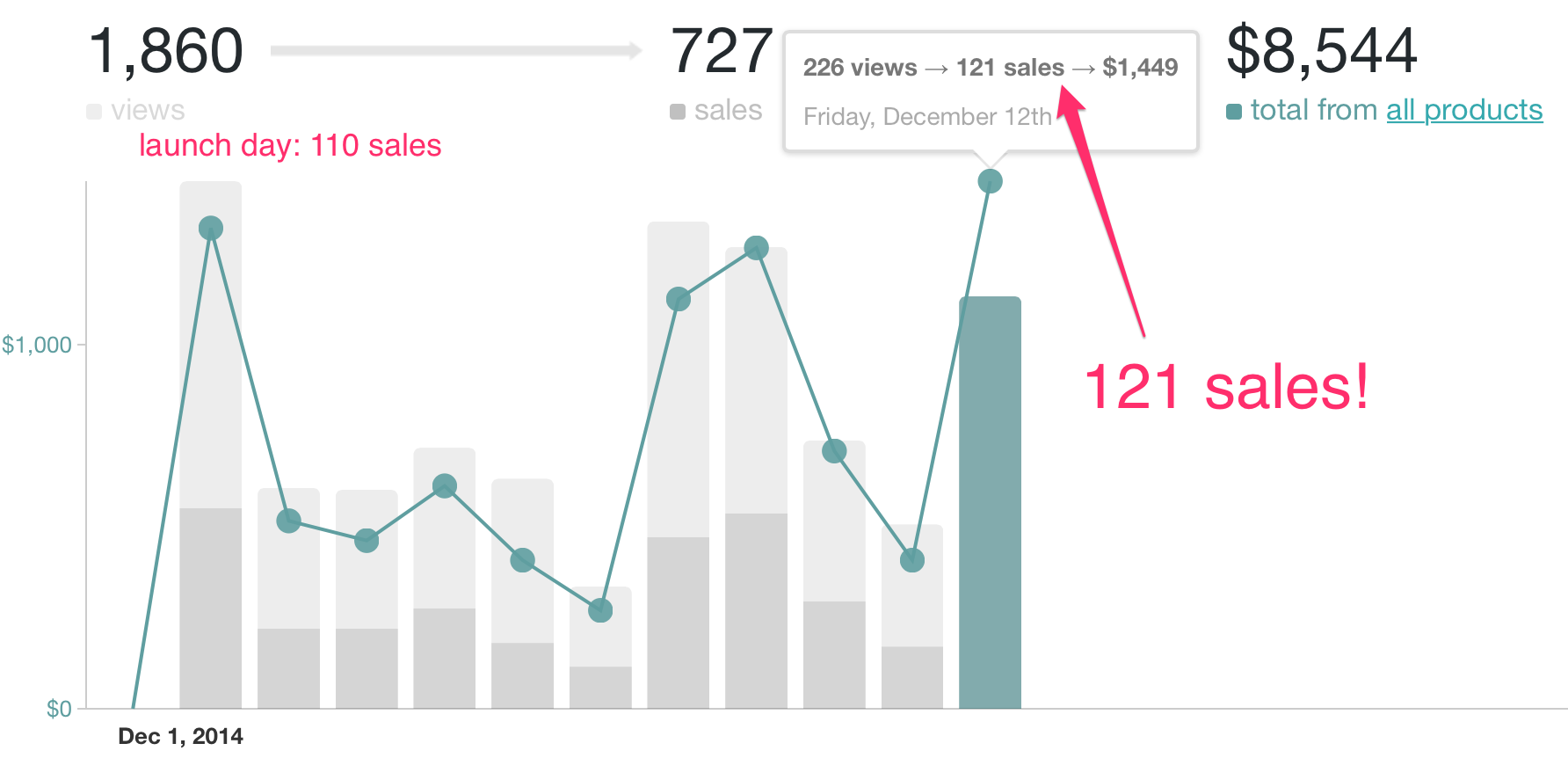 5:05pm — BAM! The price just went up, and a couple folks snuck in just under the wire. Total sales for 10 days: $8,976. Today: $1,881 so far. Time spent: 49.75 hours. Not too shabby.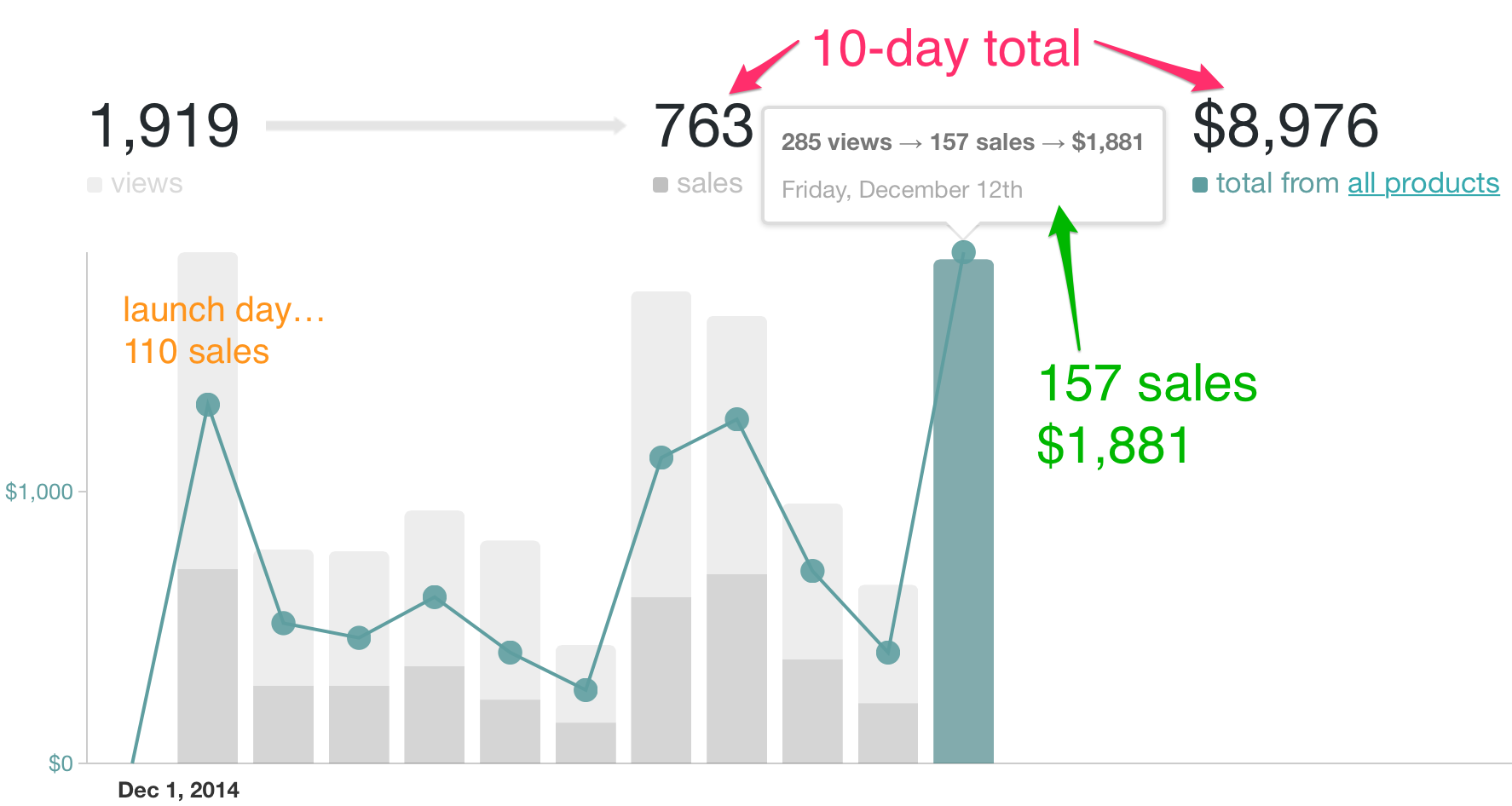 10:00pm - YEAH BOY. 182 sales for $2,356. Total $9,451. Which means I bet we'll hit $10k this weekend.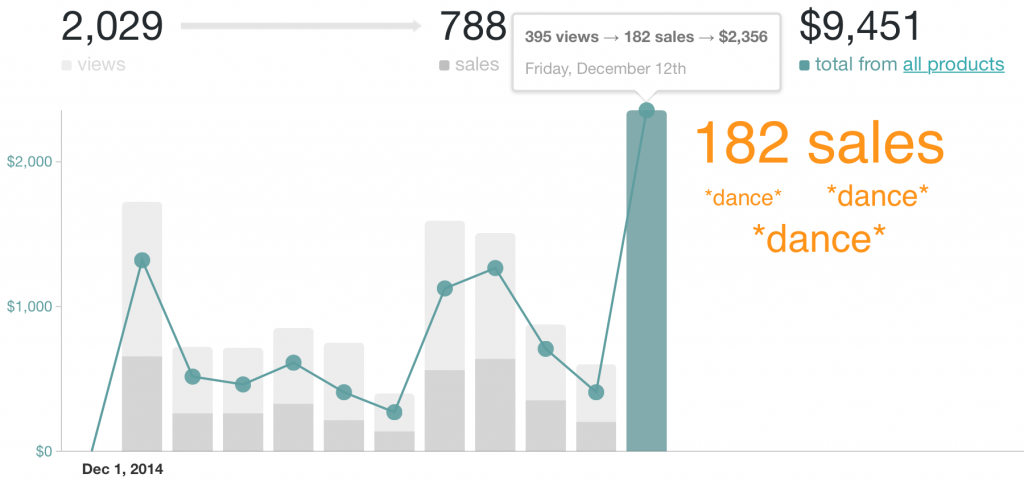 I'm especially happy about it since I started to feel like crap in the early afternoon & had to cancel all the stuff I was planning to do. Good thing I had Parks & Rec on Netflix, 3 cats, a husband who encourages me to buy weird antiques on eBay, and an avalanche of sales to keep me warm.
Get your copy for just $19. You'll get the updates, the edits, the new graphs, the additions to the "how we did it" story as they happen!