We didn't hit our goals (which was mostly our fault!).
We let deadlines slip, and probably let some people down.
Amy got really sick. :(
So of course, looking back on 2014 feels like we didn't get all that much done.
But when Amy and I sat down and spent an hour going over the stuff we did do…we realized that holy cow, it was a lot.
A bit further down on this post, we've put together our comprehensive review of 2014. It's complete with revenue and subscriber numbers, where we have them readily share-able. You'll see that 2014 might not have been as unproductive as we'd felt.
After pulling this list together, Amy and I sat down again to talk about how the year went, and talked about the difference between how we felt…and what the facts actually showed.
And this time, we recorded that conversation so you can listen in! You can expect more audio stories and conversations like this one in 2015! That'll include interviews with successful bootstrappers (and not just our own students) and more chances like this one to peek "behind the curtain" and see how Amy and I truly work together, using our unique strengths and differing approaches to actually compliment one another.
If you wanna listen to this on your phone, you can listen to Episode 3 of our Stacking Bricks podcast from iTunes or wherever you like listening to podcasts.
---
Here's what we ACTUALLY did in 2014
Revenue from the 30x500 Universe
Bootcamp sessions + The Forge = $250,338.84
Just Fucking Ship by itself brought in $12,163.25
Our share of the Gift of Business bundle we created was another $4,903.42
Total Revenue: $267,404
Last January, Amy projected our revenue for 2014 was $300k. We came within 11% of that projection!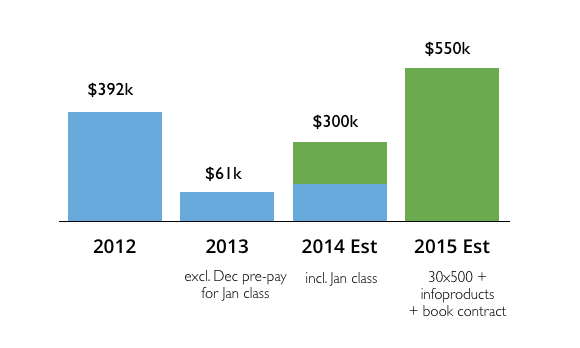 (This projected revenue chart is from Why You Have to Develop an Investment Mindset, written (and estimated) last April.)
If we had run a 5th 30x500 Bootcamp as planned, we would have easily exceeded that number by 10% or more. Instead, we made the executive choice to skip it (it would've been hurried through the holidays anyway) to focus on shipping The Forge and Just Fucking Ship (and to actually ENJOY the holiday!).
And even with conservative estimates, the revenue from JFS + The Forge will EASILY earn out that tradeoff over the next year. We talk in more depth about how we made that decision in the podcast recording above, if you wanna hear how we navigated that tradeoff.
30x500 Bootcamp & classes
We ran 4x 30x500 Bootcamps in 2014. They all either sold out or came extremely (1-2 seats) close to sold out. We had planned for 5, but again, made the executive decision to skip the final one of the year
We raised the prices of 30x500 from $1450 / $1650 / $1950 to $1950 and $2450, and eliminated the lowest tier.
We greatly improved the Exercise Program that follows the 30x500 Bootcamp – designed to help our students work through the first 4 weeks of implementing what they've learned. By the second Bootcamp of 2014, the entire Exercise Program was rebuilt to be delivered almost entirely on autopilot (with many improvements in the exercises along the way) using Infusionsoft and GroupBuzz. That way, 100% of the time we spend on the EP is HELPING students during office hours and on the mailing list. We've even got our weekly Office Hours prepared ahead of time!
We increased the participation in the Exercise Program by 280%. The first EP had 9 out of 30 total students enroll. The most recent EP had 26 out of 30 students enroll!
By the end of 2014, 79 students went through the Exercise Program.
Everything we did in 30x500 this year has resulted in better results for our students (more are shipping and making sales!) with a LOT less stress & fewer hours worked for us.
Check out a collection of their year end review posts in our "13 alumni to watch in 2015" post.
Marketing: Email & blog
Amy redesigned the blog (round 1), made it multi-author and much much cleaner, with an accessible (if simplistic) archive page and so on. Still lots to do.
We did a sweep of every bottom-of-the-post CTA on this site With more focused and crispier CTAs, we've been able to convert more page views into mailing list signups.
The result of our CTA work was worth it: we grew our list by 2.43x from 3,549 subscribers to 8,629 subscribers in 2014.
We moved all our email marketing to Infusionsoft and set more sophisticated, automated campaigns. The learning curve on this was pretty steep, but now we're prepared to do a LOT more in 2015.
Our biggest piece of marketing automation of the year was our 7-part Product Bootstrapping Guide.
Notice the spike on Jan 14 when we started the 7-part series (which we did in real time, using Campaign Monitor):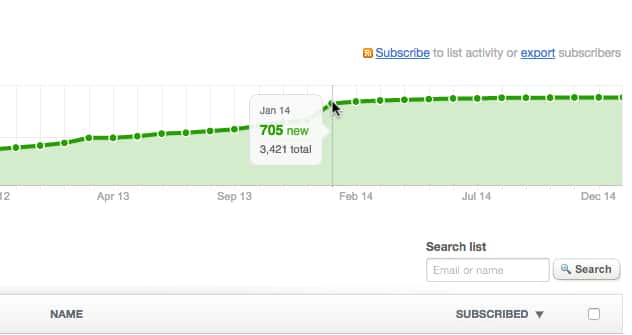 That 7 part guide helped us create a rolling launch for the 30x500 Bootcamp. This helped us fill our classes MUCH easier this year. I talked a bunch about that in the audio conversation up top, so listen in to hear how we did that!
We wrote and designed the Make Time to Make Money guide (currently a hidden freebie at the end of the 7-part series - we'll be excavating that and making it MUCH easier to find)
I rebuilt the forms we use for 30x500 and Forge applications and payments. Instead of using the quick and dirty Wufoo forms, we now use GravityForms + a Stripe thanks to a plugin made by 30x500 Alumni and Forge Member Naomi Bush. This whole thing hooks into Infusionsoft too, and let us automate ALL of our course emails after registering.
Blog stats:
39 posts on Unicorn Free
29 posts by Amy, 6 posts by Alex
1 alumni guest post (several in the pipeline need editing)
2.4ish posts per month, more during launches
4+ case studies published - 2 written (Sean Fioritto and Rob Williams), 2 audio (Scott Hurff and Pat Maddox)
4 more audio case studies recorded to be released soon!
Here's a glimpse at our 2014 blog traffic:

…and our Top posts of 2014:

We did BaconBiz again in 2014!
2 day conference. 50 people. ~14 actionable talks. TONS of focus on getting actual help (as opposed to just getting inspired).
2 day post-conf retreat for speakers, including hangouts and peer coaching sessions. This post-conf retreat was one of the best additions to the conference, and we talked in depth about why in the podcast above!
@amyhoy Hanging out with you & the BaconBiz crew was definitely one of my favorite parts of this year. :-)

— Josh Kaufman (@joshkaufman) December 30, 2014
We FINALLY launched The Forge!
Our bootcamp alums have been asking for an alumni group for a long time but the problem is that regular old free-forever mailing lists devolve: they either slowly die (become silent) or fill up with whining and nonsense. We knew we had to do something different.
We spent a fair amount of time designing a superior experience, something that would keep people on topic and doing. This is the only community of practice of it's kind that we know of, and it's ONLY for 30×500 Alumni.
We launched The Forge in December 2014, with structure, support, and guidance. Monthly "missions", plus a chat room and groupbuzz discussion list.
Ended the year with 19 paid members at $200 each. (Each prepaid for 3 months.)
PEOPLE ARE SHIPPING!
PEOPLE ARE HELPING EACH OTHER!
A couple of excerpts from the chat room:


Nathan Barry asked our little group of bootstrappers if we'd proof-read his announcement for his 24-hour Product Challenge. Amy did, and immediately decided to do it (I was in the process of launching our first week of missions for the Forge, didn't even really get a chance to talk her out of it. Glad for that!).
Over the next 24 hours, she wrote the first version of Just Fucking Ship - something we had intended to do for some time.
JFS represents a new kind of product for us (aside from Amy's technical ebooks), a new kind of collaboration, and a new kind of launch. More on both of those soon! Sold 932 copies before the end of December (not including copies in our holiday bundle)
Best Days were: launch day ($1320, 110 copies) and last day at the presale price ($12 vs $19 – $2432, 186 copies)
Word of mouth currently generating 3-6 sales a day, which translates to $41k per year. If we do even a LITTLE bit of work to build out a real sales page & real sales funnel, to automate conversion from blog visitor to reader to buyer, we conservatively think we could do $60-80k/year.
We shipped our first Holiday Gift Bundle for Bootstrappers
Fun way to work with some of our friends and spread the love.
We sold 279 bundles total: 55 action bundles ($109-119), 224 prep bundles ($49-59)
Total Revenue to split: $17,323
We put the whole thing together in just a few days: Amy did the design and copywriting, I handled the ecommerce part and capturing/sending emails, along with lots of other operational bits. When we do this again, there's LOTS of room for improving the launch sequence, sales copy, etc.
---
By the way… Amy and I both work on things outside of 30×500.
Just a few high level milestones of note:
Alex & his team:
Indy Hall grew by 50% YoY in 2014. That's more members, a bigger team, and more projects/initiatives.
Indy Hall did it's first Beach House!
I did more on-site workshops in 2014 than ever before (Kansas City, Raleigh, Seoul, Minneapolis, Lisbon), and did a coworking retreat with some friends in Seattle
GroupBuzz has paying customers! Brad and I earned $10k in 2014.
Amy & her team (truly mostly the team:)
Amy designed & shipped the first stage of a redesign for Noko
Noko added $130,726 in real revenue (not forecast or run rate), growth rate of 34%
Amy and Thomas hired a support person and a part-time sales person, growing their team by 1.5x (we talk more about this in the audio conversation above, too).
Created & implemented onboarding (software and lifecycle email), A/B testing, sales process, sales tooling, raised prices, etc.
Found and secured a new office on short notice, hired architect & designed it etc and about to start construction (ugh!)
For a year that felt unproductive, it turns out we accomplished quite a lot.
---
THE YEAR AHEAD
And best of all, a bunch of the things that we DID accomplish are things that we'll see pay off over the next 12 months ahead, and long beyond that as well.
The addition of Just Fucking Ship as a cornerstone of our product lineup gives us TONS of fuel for more ebombs. Our approach to tuning CTAs and experience with email courses will amplify any effort we put into guest blogging and webinars.
If I were to summarize the year ahead, I'd say that our goals fall under the umbrella of "reach". That's increasing the people who know about our ideas and techniques for bootstrapping their way to get what they really want.
But that's also doing a better job of reaching the people who already know about us. That means filling in the MASSIVE gap between all of the free help you can get on this site, and our $2500 premium 30×500 Bootcamp and Exercise Program.
Just Fucking Ship showed us in a big way how much more we can do with a range of products for the self-starters in our audience, which gets us really excited about the launch of our next 30×500 course. This will be the first ever self guided version of 30×500 designed for people who haven't been able to fit our 2 day bootcamps into their schedule. We'll have pre-sales open in early February, and you're going to start hearing more about this on our email list in the coming weeks.
And we also have our new community – The Forge – to help us keep momentum with our own work. Having a "place" to gather with people that are shipping will help us keep going. And these days, more and more of our 30×500 alumni are teaching us new things. Having this support group is going to be a big part of how Amy and I get work done this year.
And of course, BaconBizConf will ride again, and at this point we've streamlined things so that the "hardest" work is figuring out who we want to invite to speak (we'll announce that in March or so).
More positive change, more impact, more reach, more efficient, less time working and earning more money which in combination give us the freedom to do the things we care the most about. Without a doubt, this can be our best year yet!
Press play to hear Amy and I reflect on 2014….
How do you make your first sale?
Follow our FREE roadmap from $0 to $10k and start your product business one small, achievable win at a time.
When you subscribe, you'll also get biz advice, design rants, and stories from the trenches once a week (or so). We respect your email privacy.